A rare bond: Siblings undergo successful transplants at UT Southwestern
Having one member of the family need an organ transplant is rare. The Johnsons had two.
"I would have never thought this in a million years," said Ellen Johnson, mother of the siblings who, as adults over the course of a year, became beneficiaries of successful heart, liver, and kidney transplants at UT Southwestern. "But we feel blessed," said the Fort Worth woman, given that she might have lost both her children without transplant surgeries.
Beth Owens, Ms. Johnson's daughter, was just a year old when doctors diagnosed potentially fatal kidney cancer that had spread to both kidneys. She survived due to strong chemotherapy and radiation treatments over the next 18 months.
But, now in her 40s, Ms. Owens found herself facing congestive heart failure, possibly a long-term effect of the chemotherapy she had as a child – something her mother, a nurse, had been warned about.
"It becomes a balancing act between treating a cancer that will likely take the patient's life and risking possible heart damage from the chemotherapy," said Dr. Matthias Peltz, Surgical Director of Cardiac Transplant at UT Southwestern and the surgeon who successfully performed Ms. Owens' heart transplant.
Over the years, Ms. Owens had made frequent visits to doctors to monitor her condition. In 2002, while in her late 20s, she was diagnosed with congestive heart failure. In 2011, she suffered a stroke. In 2015, she had a heart defibrillator and pacemaker installed after developing heart palpitations.
The quietly determined woman went on about her life, traveling for her job as an auditor, even flying to Hawaii for a family vacation one month before her transplant, although her husband had to carry her on his back to reach some sites.
The final word that she would need a transplant was almost a relief. "I had been going to doctors all my life, so when they said 'transplant,' I was like, 'Let's do it!'"
Without a new heart, her chances of surviving a year were about 50 percent, said Dr. Peltz, also Associate Professor of Cardiovascular and Thoracic Surgery.
On Sept. 14, 2016, UT Southwestern surgeons transplanted Ms. Owens' new heart. The following day, they gave her a new kidney.
"Heart failure was the more immediate concern," said Dr. Justin Parekh, the transplant surgeon and Assistant Professor of Surgery at UT Southwestern who put in Ms. Owens' kidney. "But she also had progressive kidney failure due to the effects of her cancer therapy, with the need for kidney dialysis fast approaching."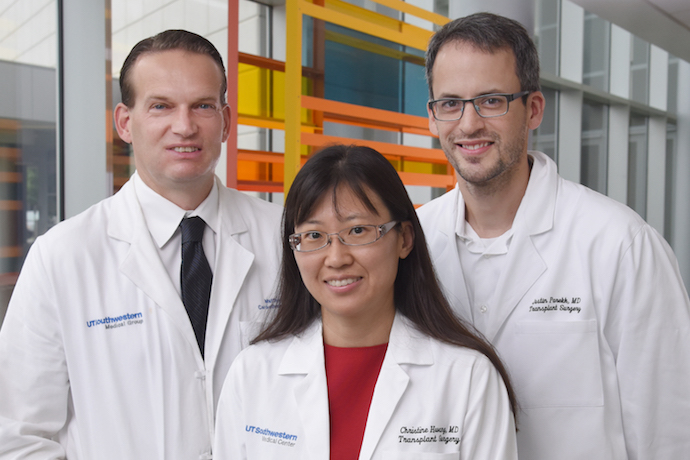 A year later, Ms. Owens was doing well and working at her and her husband's electrical contracting business when the family received a shock. Her brother, Jeff Johnson, then 46 and a father of two, had left his job managing the X-ray department at a small hospital south of Waco sick and nauseated.
"I looked in the mirror and I looked yellow," he said. Tests revealed fluid around his liver. He was diagnosed with acute liver failure.
Like his sister, Mr. Johnson faced death unless he received a transplant. "I told Mom to get him to UT Southwestern in Dallas," Ms. Owens said.
"He was quite sick," said Dr. Christine Hwang, the surgeon and Assistant Professor of Surgery who successfully performed Mr. Johnson's liver transplant. "He probably would not have made it more than a few months had he not received a transplant."
Mr. Johnson got a new liver in August 2017, just nine days after going on the wait list.
Today, like his sister, he's healthy and he reaches out to others needing transplants at the larger medical center where he now works.
"I could run a marathon – well, I couldn't, but I'd try," he quipped. "I'm healthier than I've been in a long, long time."
"We have always had a bond," Ms. Owens said of her brother, "but now we are even closer."