Science Saturday brings together hundreds of budding scientists, seasoned researchers
This story was originally posted on Center Times Plus on November 8, 2018.
---
"You guys want to hold a brain?"
In any other context, it might seem a strange question. But this was UT Southwestern Science Saturday, and guests gathered for just this kind of experience – a chance to hold a model brain, amplify their own heartbeat, don a safety suit and boots, or send a colorful anniversary message.
On this beautiful November day on McDermott Plaza, UT Southwestern welcomed nearly 1,700 visitors at the first event of its kind. Open to the public, and shared via community partners such as The Dallas Morning News and the Perot Museum of Nature and Science, the event attracted visitors ranging from those just beginning to show interest in science to some with a long history of work in research.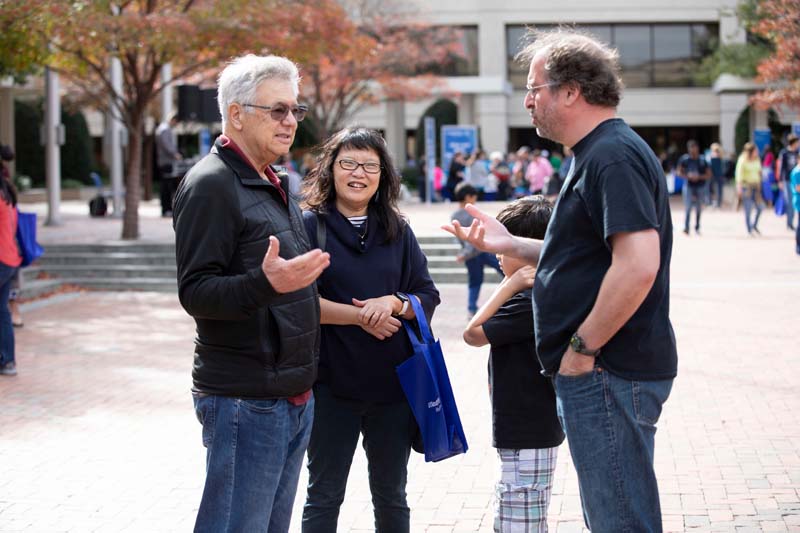 One such visitor was UT Southwestern Nobel Laureate Dr. Michael Brown, Director of the Erik Jonsson Center for Research in Molecular Genetics and Human Disease and Professor of Molecular Genetics and Internal Medicine.
"I have two grandsons with me, a 9-year-old and a 6-year-old; the 9-year-old is interested in science, and the 6-year-old is just running around, and I'm interested to see the genetics booth," Dr. Brown said. "But what's most interesting is that the graduate students here are much more exciting to my grandchildren than I am. They want to hear what the students have to say."
More than 80 volunteer scientists from UTSW labs operated 21 booths at the event, covering topics such as concussion and traumatic brain injury, immunology, imaging, clinical psychology, organic chemistry, lab safety, and more. Graduate student researcher Catherine Munro stood among the shifting crowd, offering children a chance to hold a model brain, which mimicked the size, weight, and consistency of an adult human brain.
"I am here with Dr. Cullum educating the public on concussion safety and research," Ms. Munro said. "This brain weighs about 3 pounds, so some people are surprised at how heavy it is. Some of the kids get really grossed out but usually they overcome their fears, and eventually most people just want to squeeze it." Dr. Munro Cullum is Professor of Psychiatry, Neurological Surgery, and Neurology and Neurotherapeutics.
A guest asked Ms. Munro whether the size of the brain mattered.
"Not really," she answered. "Actually Einstein had a pretty small brain. What matters more is how the neurons talk to each other."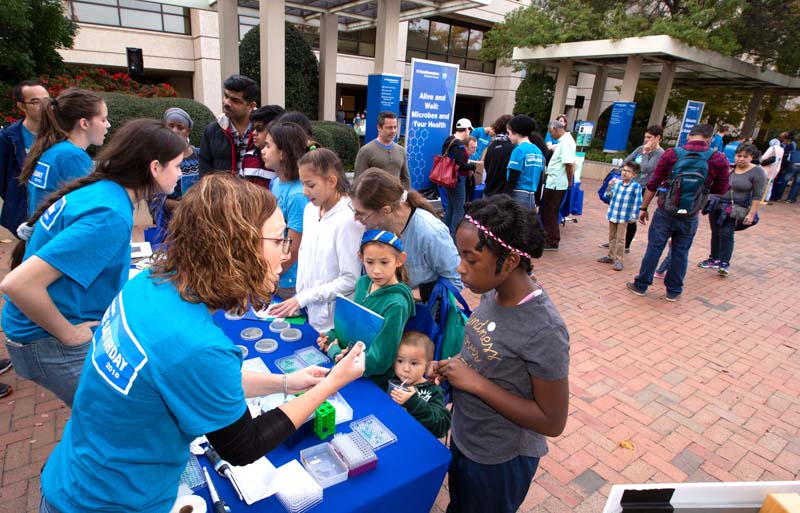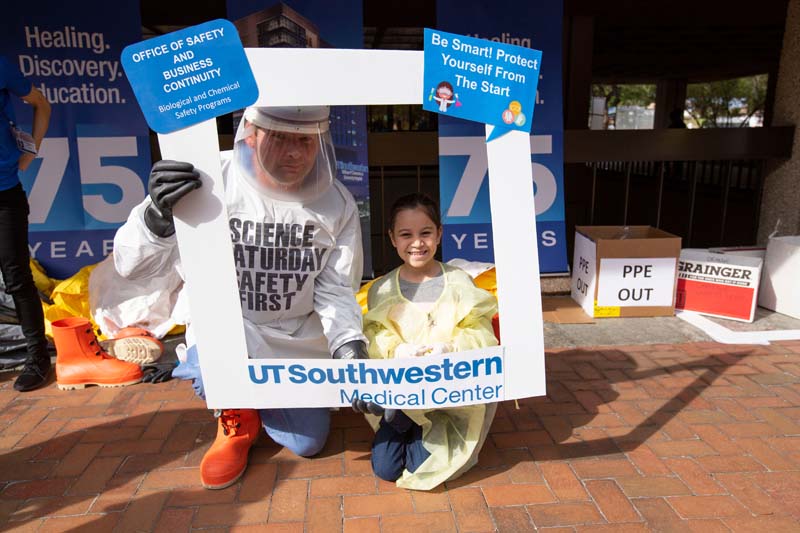 The UT Southwestern Office of Safety and Business Continuity operated one of the more popular stations. It included a rack full of safety garments, masks, and boots and a hand-held frame for taking photos. Patrick Conley, Director of Biological and Chemical Safety, remained dressed in the striking garb and took photos with guests.
"Our demonstration allows kids and parents to get into the personal protection equipment to see what it feels like to be in that level of protection, and we're describing how they all work," Mr. Conley said. "From that standpoint, we're engaging in our youth community so that we can try to get them invested in science. They and their parents can understand they can be safe while studying science."
Community partners also hosting booths included the Girl Scouts STEM, the Perot Museum of Nature and Science, talkSTEM, the Trinity River Audubon Center, Dallas Independent School District STEM Center, the Fort Worth Museum of Science and History, The Dallas Morning News, and Boy Scouts STEM. Some community organizations brought groups to the event, including Boy Scout troops and the Vickery Meadow Youth Development Foundation.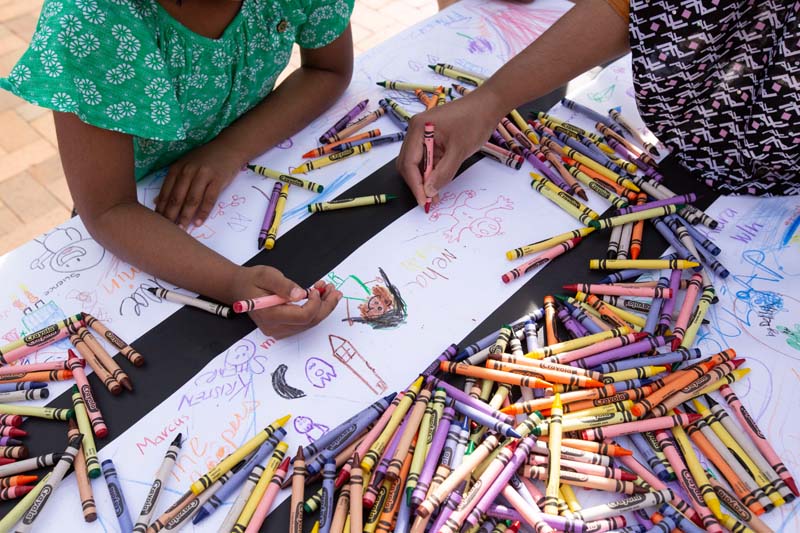 The atmosphere was that of an educational birthday party – guests also enjoyed music from a DJ and were invited to sign a banner anniversary card celebrating UT Southwestern's 75th anniversary. Dr. Stuart Ravnik, Associate Dean of the UT Southwestern Graduate School of Biomedical Sciences, encouraged children to grab a crayon and draw a picture or write a message on the long banner, which will be photographed for posterity and hung with pride in Dr. Ravnik's office. Party favors included stickers, a laboratory notebook, and lab coats for children.
Dr. Ravnik also had plenty of high-fives to go around.
"We're excited to have so many visitors of all ages, and especially the young ones who are interested in science," Dr. Ravnik said. "This kind of open discussion with our community is part of us giving back to the community and what makes me enthusiastic for the future of science and medicine and UT Southwestern's next 75 years."