Sendelbach, de Lemos honored with teaching awards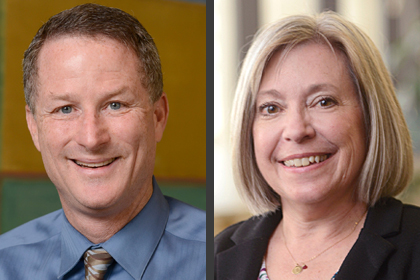 Cardiologist Dr. James de Lemos and pediatrician Dr. Dorothy Sendelbach have been recognized with the UT System's highest educational honor – the Regents' Outstanding Teaching Awards (ROTA) – for their academic prowess and mentoring talent.
With their selection as 2018 award recipients, UT Southwestern now has more than 40 faculty members so honored to date. The award recognizes outstanding teaching, mentoring, and personal commitment to students and the learning process.
"Both Dr. Sendelbach and Dr. de Lemos are exemplary scholars and educators, and we are truly delighted that the Board of Regents has recognized their commitment to our students and other learners," said Dr. Daniel K. Podolsky, President of UT Southwestern. "Their dedication and talents as teachers make it possible for UT Southwestern to prepare the future physicians and scientists who will improve the health and well-being of our community and those beyond."
Dr. Dorothy Sendelbach
Dr. Sendelbach, Assistant Dean of Undergraduate Medical Education and Professor of Pediatrics, has been extensively involved in UT Southwestern's curriculum design, faculty development, and student mentorships, including serving as a student mentor in the Fashena College since its inception.
"I have been on faculty at UTSW since 1993 and the opportunities to positively influence the education of future physicians, from bedside teaching and mentoring to curriculum development and educational administrative roles, have been among the most meaningful and joyful work I get to do. The responsibility of developing the next generation of doctors is a privilege," Dr. Sendelbach said. "It's a great honor to be selected as a ROTA recipient and be recognized for the work I do in education."
Besides being a member of the UT Southwestern Academy of Teachers, she previously was elected to membership with the University of Texas Kenneth I. Shine, M.D., Academy of Health Science Education and is a Distinguished Teaching Professor.
Dr. Sendelbach completed her pediatric residency at UT Southwestern at Children's Medical Center Dallas and worked in a community clinic for refugees and the underserved prior to joining the faculty in 1993 as a general pediatrician in the Newborn Nursery.
Dr. James de Lemos
Dr. de Lemos, Professor of Internal Medicine, is a senior member of the Cardiology Division and senior investigator in the Dallas Heart Study who has served in multiple leadership roles since joining the faculty in 2000.
"I am deeply honored to receive this award," Dr. de Lemos said. "I'm personally grateful for all the teachers and mentors I had, and appreciative of the amazing trainees and students who continue to make education the most rewarding aspect of my career."
Dr. de Lemos, who served as Director of the Cardiology Fellowship from 2005 to 2011, has repeatedly received recognition for his educational expertise, including the Women in Cardiology Mentoring Award (2017) from the American Heart Association, the L. David Hillis Teaching Award (2017) for fellowship teaching, the Core Clerkship Teaching Award at UT Southwestern (2011), the Internal Medicine Teaching Award for Excellence in Teaching (2005), and the Soma Weiss Award Excellence in Teaching at Brigham and Women's Hospital (1997). Dr. de Lemos completed his residency and served as Chief Resident at UT Southwestern.
Recipients of the 2018 Regents' Outstanding Teaching Awards received $25,000 in recognition of their commitment to student success and were recognized Aug. 9 at a reception held in conjunction with the Board of Regents meeting in Austin.