Homecoming: Retired nurses reunite, look to future of nursing at UT Southwestern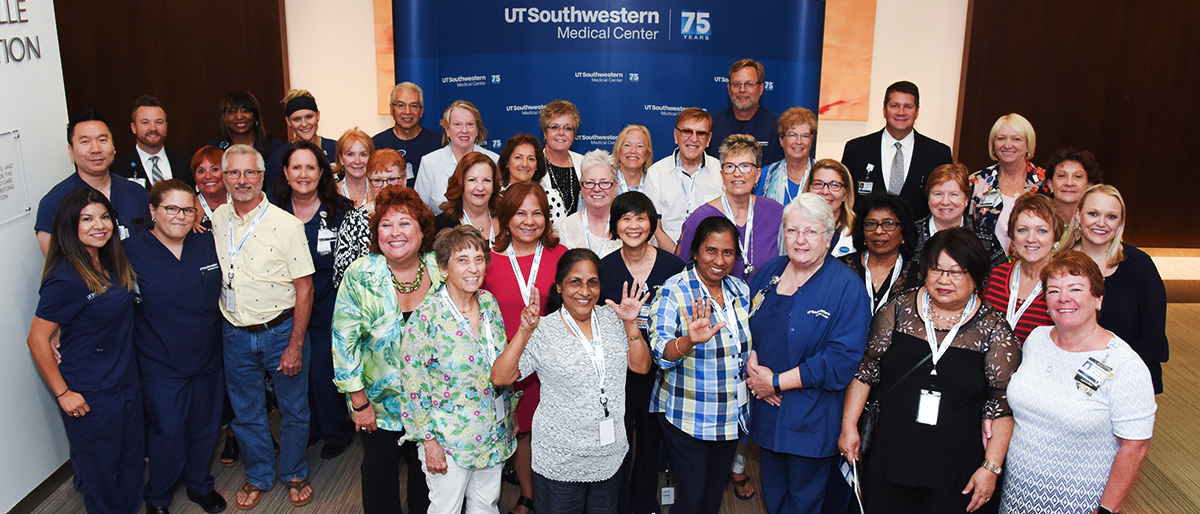 This story was originally posted on Center Times Plus on October 1, 2018.
---
In August, a few dozen retired UT Southwestern nurses gathered for a luncheon at William P. Clements Jr. University Hospital, the first event of its kind in UTSW history.
In the spirit of UT Southwestern's 75th anniversary year, Chief Nursing Executive Susan Hernandez had the idea to invite the institution's retired nurses to reminisce about their time here, while looking to the future of nursing at UTSW. Invitations were sent, and more than 20 retired nurses attended the lunch and presentation about nursing excellence at UT Southwestern.
"I want to say thank you for what you did as UT Southwestern nurses," Ms. Hernandez told the special guests. "You laid the foundation for many of us to come behind you and continue that greatness. I am every day excited about where I work and what I do – and that's because of these people and this place.
"I think we should be more connected as UTSW nurses," she continued. "Just because you're retired doesn't mean that you're no longer passionate about being a nurse or passionate about UT Southwestern."
The Rev. John O'Neal, Director of Chaplain and Volunteer Services, offered a blessing, and Associate Chief Nursing Officers Victoria England and Todd Bailey spoke about nursing initiatives at UT Southwestern, outlining the four goals of UTSW nursing excellence:
Recruit and retain the best nursing school graduates

Develop a strategic relationship with schools of nursing

Create an environment

that

rewards and recognizes the expert nurse

Leverage improvements in technology to enhance nursing care delivery
"The goal of our focus on these initiatives is to improve the health of our patients and save lives," Ms. England said. "Our post-training surveys show that 93 percent of our participants agree that interdisciplinary teamwork has a direct effect on patient care."
The renewed focus on teamwork and continuous learning was a constant theme throughout the luncheon.
"Everything we do in nursing starts with the UTSW values," Mr. Bailey said. "As we move forward, we'll continue to deliver high-quality care through clinical expertise, process focus, and use of teamwork principles."