Yu named first recipient of Rosalee G. and James M. McConnell Professorship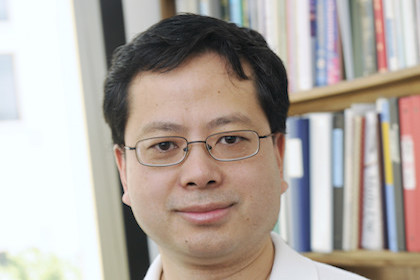 A new endowed chair from the McConnell family will help further investigations by UT Southwestern neuroscientist Dr. Gang Yu into Alzheimer's and other neurodegenerative diseases.
Work in the Yu lab seeks to understand the molecular and cellular basis of Alzheimer's disease, amyotrophic lateral sclerosis, frontotemporal dementia, and related neurodegenerative disorders. Using both in vitro and in vivo approaches, the lab focuses on taking apart and putting together several disease-associated molecular machines. It is hoped that by doing so the underlying biological principles of these molecular machines and their relevance to disease pathogenesis will be understood.
"I am truly grateful for the generous support from the family and their insightful recognition of the importance of understanding the fundamental mechanisms underlying neurodegenerative processes in developing eventual therapeutic treatments," said Dr. Yu, who is best known for his contributions to the discovery and characterization of the gamma-secretase complex, one of the two enzymes responsible for producing beta-amyloid in Alzheimer's disease.
Dr. Yu, Professor of Neuroscience with the Peter O'Donnell Jr. Brain Institute, is the inaugural holder of the Rosalee G. and James M. McConnell Professorship in Alzheimer's Disease Research. The McConnell Professorship endowment was established to support the basic or clinical research in the diagnosis, genetics, prevention or cure of Alzheimer's disease.
Before their deaths, the McConnells made a gift to Southwestern Medical Foundation to establish the McConnell Professorship. Their son, Dr. John D. McConnell, former Executive Vice President for Health System Affairs at UT Southwestern and current Executive Director of Wake Forest Healthcare Ventures in Winston-Salem, North Carolina, is pleased that his family's legacy lives on at UT Southwestern.
"Having spent most of my academic career at UT Southwestern, I know that there is no better institution to bet on with regard to pursuing discovery that ultimately benefits patients," Dr. McConnell said. "Since our mother and maternal grandmother died of Alzheimer's, supporting new research in the area was of great interest to my family. We were able to fund this gift through a charitable remainder trust at Southwestern Medical Foundation that provided financial resources for our mother's care for several years."
Dr. Yu joined the faculty in 2001 and was among one of first classes of Endowed Scholars in Medical Science at UT Southwestern. In Canada, he earned his Ph.D. in biochemistry and molecular biology from the University of Calgary and served as a postdoctoral fellow in the Center for Research into Neurodegenerative Diseases at the University of Toronto.