Graduate student awarded HHMI Gilliam Fellowship for leadership potential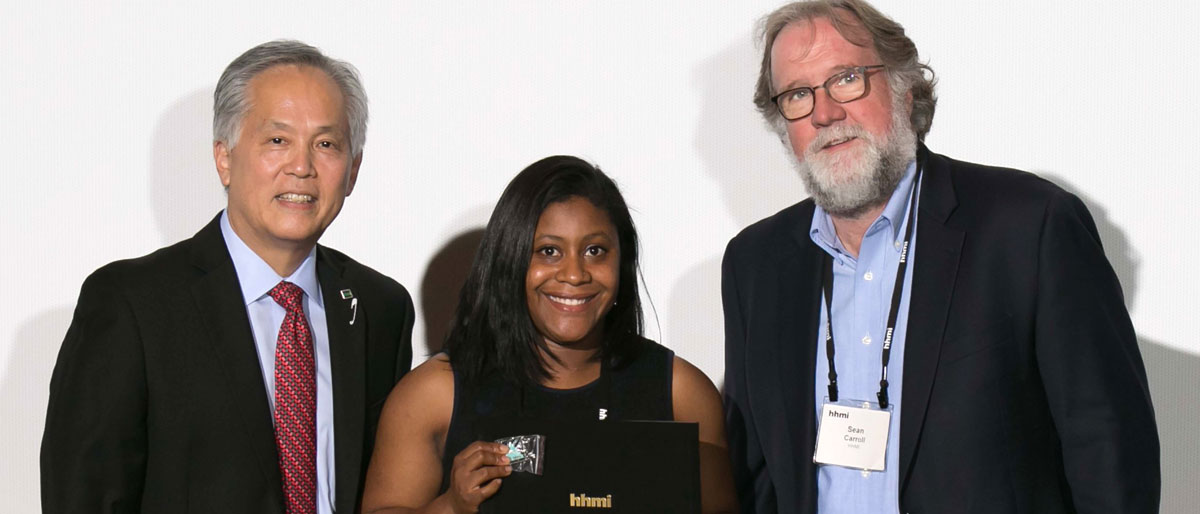 This story was originally posted on Center Times Plus on Dec. 17, 2018.
---
The Howard Hughes Medical Institute (HHMI) has awarded UT Southwestern graduate student Brittany Johnson a 2018 Gilliam Fellowship for Advanced Study to support her research into links between vitamin K and cholesterol.
"My research focuses on a new connection between the synthesis of cholesterol and vitamin K2. This work has important implication for cardiovascular disease and a human eye disorder – Schnyder corneal dystrophy," said Ms. Johnson, who works in the lab of Dr. Russell DeBose-Boyd, Professor of Molecular Genetics.
Johnson is one of an elite 45 doctoral student-adviser pairs from across the country awarded 2018 Gilliam Fellowships for Advanced Study by the Howard Hughes Medical Institute (HHMI). All recipients have demonstrated high promise to become leaders in their fields.
"These are incredibly talented young scientists with the desire to become college and university faculty members, where they will train the next generation students," said Dr. David Asai, HHMI's Senior Director for Science Education.
The Gilliam program aims to ensure that a diverse and highly trained workforce is prepared to assume leadership roles in science, he said.
"Brittany's selection as an HHMI Gilliam Fellow not only validates the importance of her research, which is exploring a novel relationship between the synthesis of cholesterol and vitamin K, but also speaks to her potential as a scientist," said Dr. DeBose-Boyd, who holds the Beatrice and Miguel Elias Distinguished Chair in Biomedical Science. "I'm very proud of Brittany's hard work and dedication and look forward to watching her mature over the coming years."
Ms. Johnson is investigating how an enzyme that makes vitamin K2 modulates the destruction of a key cholesterol biosynthetic enzyme called HMG CoA reductase. The reductase enzyme is the target of statins, a group of drugs prescribed to millions of Americans to lower LDL-cholesterol and prevent heart attacks.
"Statins disrupt regulation of the reductase enzyme, causing a major buildup of the protein that limits cholesterol lowering effects of the drugs," she explained. "Understanding the underlying mechanisms for this buildup may lead to new therapies that prevent the response and improve the cholesterol-lowering properties of statins."
In addition to causing heart attacks and strokes, abnormal buildup of cholesterol can lead to an eye disease called Schnyder corneal dystrophy (SCD). Ms. Johnson's research is further investigating another enzyme called UBIAD1 that also regulates the destruction of HMG CoA reductase, which could lead to new therapies that prevent or reduce the corneal accumulation of cholesterol associated with SCD.
About the program
HHMI created the Gilliam Fellowships for Advanced Study in honor of the late James H. Gilliam Jr. A charter trustee of HHMI, Mr. Gilliam was a respected business and civic leader who spent his life nurturing excellence and diversity in science and education. Each fellowship-winning pair (researcher and mentor) will receive an annual award totaling $50,000 – which includes a stipend, a training allowance, and an institutional allowance – for up to three years. Fellows' thesis advisers will participate in a year of mentor development activities. For the first time since the program began in 2004, a portion of the annual award will support activities designed to foster diversity and inclusion in the mentors' labs and departments.