McClung honored with Rogers Chair recognizing clinical excellence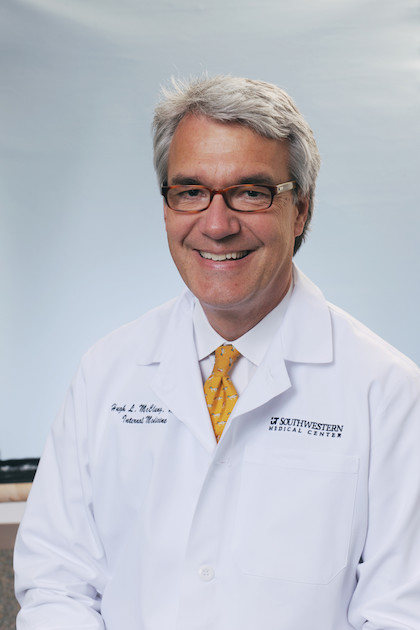 Dr. Hugh McClung has spent a distinguished career blending clinical expertise, the latest research findings, and the educational motivations of academic medicine to solve the health care puzzles that patients bring to him in the clinic.
"Without strong clinicians, science doesn't adequately benefit the patient. Clinical care must emphasize the basics of listening to the patient, hands-on examination, physical diagnosis, and formulation of a plan of action," said Dr. McClung, Associate Professor of Internal Medicine.
This valuable combination of clinical expertise is reflected in the establishment of the Margaret Jonsson Rogers Chair in Clinical Excellence, in Honor of Hugh McClung, M.D. The inaugural holder of the Chair is Dr. McClung.
"Dr. McClung is an exemplary physician who provides the best of care to his patients," said Dr. David Johnson, Chairman of Internal Medicine. "He provides a humanistic, emphatic approach to each of his patients, where each is treated as if she or he were a member of his family."
The Chair was established this year in Dr. McClung's honor by Mrs. Rogers with a $500,000 gift through Southwestern Medical Foundation.
"This generous gift from Margaret Jonsson Rogers honors UT Southwestern's commitment to clinical excellence, and we deeply appreciate her unwavering loyalty and support," said Dr. Daniel K. Podolsky, President of UT Southwestern. "Dr. McClung is an exceptional physician who embodies clinical excellence in the dedicated, high-quality care he consistently provides to his patients. It is a special pleasure for all of us that his values and accomplishments have been recognized through this wonderful gift in his honor."
Mrs. Rogers and her late husband, Robert D. Rogers, have been ardent supporters of UTSW through the years, with gifts established by them personally or through the Margaret Jonsson Family Foundation and the Robert D. Rogers Family Trust. Their specific support of enhanced clinical care includes service as honorary Chairs of the Medical Center's Innovations in Medicine campaign, to which they contributed nearly $1.2 million, as well as establishment of the Robert D. Rogers Advanced Comprehensive Stroke Center on campus.
The couple were married for 24 years before Mr. Rogers' death in 2013. Mrs. Rogers is the daughter of Erik Jonsson, a founder and former Chairman of Texas Instruments and former Mayor of Dallas. A leader in local and national education and arts organizations, she is a life trustee of the Dallas Museum of Art and has served as Chair of the Crystal Charity Ball, as a Governor of the Dallas Foundation, and as a Trustee of Southern Methodist University, her alma mater.
A 2002 inductee into the Texas Business Hall of Fame, Mr. Rogers was President of Texas Industries for 34 years and a former Chairman of both the Federal Reserve Bank of Dallas and the Dallas Chamber of Commerce. His extensive philanthropic efforts included service on the UT Southwestern Board of Visitors for University Hospitals and Clinics as well as on the Southwestern Medical Foundation Board.
Dr. McClung, who completed his internal medicine internship and residency at UT Southwestern and whose practice is focused on adult preventive medicine, has known Mrs. Rogers for more than a decade.
"I'm amazed at Margaret's generosity and I am extremely honored," he said. "My father was an internist, so internal medicine has always seemed like the heart of medicine to me. The meaning of 'clinical excellence' is simple: It means taking care of patients, day in and day out, at a high level of competency."