Town hall highlights growth at the Peter O'Donnell Jr. Brain Institute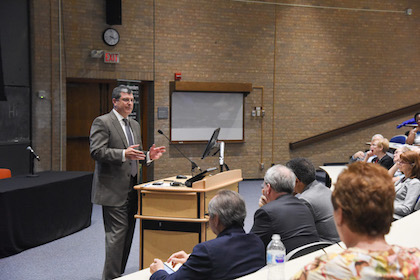 At the Peter O'Donnell Jr. Brain Institute's second annual town hall held recently, faculty and staff were updated on goals and accomplishments, including significant growth on both clinical and research fronts.
Dr. Daniel K. Podolsky, President of UT Southwestern, opened the June 7 event by highlighting some upcoming growth opportunities for the O'Donnell Brain Institute. "There has been nothing like this multidisciplinary, brain-focused initiative in the 75-year history of our institution," Dr. Podolsky said. "We are delighted that our partners in the community are excited about this as well, and proud of the progress we've already made in our ambitious effort to eradicate or find better treatments for devastating brain and neurological diseases."
The O'Donnell Brain Institute, established in 2015 with a $36 million gift from Edith and Peter O'Donnell Jr., brings together eight academic departments, six clinics, hospital neurosciences, and employees from the Advanced Imaging Research Center, Molecular Biology, and the Lyda Hill Department of Bioinformatics.
Dr. Christopher Madden, Associate Vice President and Executive Clinical Director of the O'Donnell Brain Institute and Professor of Neurological Surgery, talked about key research investments and clinical program accomplishments in 2017.
The O'Donnell Brain Institute received $56 million in research funding in FY17. As a result, several capital expenditures were made over the last year to enhance the ability to conduct neuroscience research.
"There's a tremendous variety of research that's going on every day on this campus," Dr. Madden said.
Among accomplishments on the clinical side, UT Southwestern was recertified as a Joint Commission Comprehensive Stroke Center, and the epilepsy program received level 4 accreditation from the National Association of Epilepsy Centers.
Word is spreading fast about the expertise available at the Institute. Clinics such as those from Neurology and Neurotherapeutics, and Psychiatry are seeing more patients than ever. Neurology saw a 46 percent increase in new patient visits, while the number of new patients for Psychiatry has grown fivefold in just three years.
The O'Donnell Brain Institute is also strengthening its outreach to position UT Southwestern as a thought leader in North Texas and nationwide. In the last year, the O'Donnell Brain Institute has held lab and hospital tours, provided speakers at schools and events, and hosted support groups and other patient events. Most notable are its partnerships with the Dallas Morning News (Science in the City), the Dallas Symphony Orchestra (Soluna International Music & Arts Festival), and the Perot Museum of Nature and Science (Summer Nights).
A highlight of the town hall was a preview of the future footprint of the O'Donnell Brain Institute. Renovations begin this fall on the Aston Ambulatory Care Center building that will serve as the ambulatory home for the neurosciences. In fall 2020, hospital-based neurosciences will move into the third tower of William P. Clements Jr. University Hospital. In addition, a dedicated building to house basic neuroscience research for the O'Donnell Brain Institute is planned for North Campus, with expected completion in 2022.
Also at the event, Dr. Podolsky announced the winners of two $150,000 O'Donnell Brain Institute pilot grants. The Circle of Friends Brain Steering Committee voted to fund the following research teams:
Lukasz Andrzej Joachimiak, Assistant Professor in the Center for Alzheimer's and Neurodegenerative Diseases and of Biochemistry, and Dr. Milo M. Lin, Assistant Professor in the Cecil H. and Ida Green Comprehensive Center for Molecular, Computational, and Systems Biology and in the Center for Alzheimer's and Neurodegenerative Diseases and of Biophysics; "Incorporating Experimental Restraints for Atomistic Design of Tau Therapeutics"
Benjamin Greenberg, Associate Professor of Neurology and Neurotherapeutics, and Pediatrics, Dr. Andrew Young Koh, Associate Professor of Pediatrics, Microbiology, and in the Harold C. Simmons Comprehensive Cancer Center, and Dr. Xiaowei Zhan, Assistant Professor of Clinical Sciences and in the Center for the Genetics of Host Defense; "Identifying a Gut Microbiota Biomarker that Predicts Multiple Sclerosis Disease Status"