Breakfast with Jack a delicious winner in employee art show
This story was originally posted on Center Times Plus on September 12, 2018.
---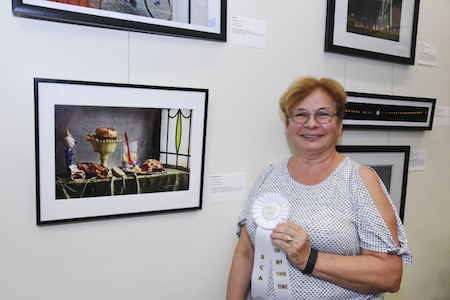 Dr. Elena Nosyreva regularly taxes left-brain functions in her UT Southwestern duties as an Instructor of Neuroscience and Physiology. She finds equal joy and satisfaction, however, in putting her creative right hemisphere to work artistically.
"I like the freedom in the arrangement of elements within a still-life composition and the challenge in creating a special light that enhances the mood," said Dr. Nosyreva, who won four awards in the 18th annual On My Own Time art show for UTSW employees. This repeats her 2017 showing, in which she also earned four awards, including the top honor.
This year's Best in Show was Dr. Nosyreva's Color Photography piece titled Breakfast with Jack, which also placed first in the category's amateur division. The photo is a whimsical take on a classic still life, with the traditional fruit and flowers being supplanted by food from Jack in the Box.
Four other UTSW employees scooped up multiple awards in different categories this year: Adeeb Alomar, a research intern in the Hamon Center for Regenerative Science and Medicine; Linda Bridges-Halcomb, an Administrative Associate in Pediatrics; Dr. Shelly Harvey, a Faculty Associate in Internal Medicine; and Shacoya Smith, a Prosthetics-Orthotics resident in the UT Southwestern School of Health Professions.
"We're used to hearing about left-brain accomplishments that drive the science and logic going on at UT Southwestern, but to see the right-brain talents on display in campus events like this leaves no doubt as to why we're so highly regarded as an institution," said Darren Nelson, Assistant Vice President of Human Resources Administration who announced the OMOT category winners. "Celebrating our employees and the uniqueness they have individually is always inspiring."
The show's placings were determined by a panel of North Texas Business Council for the Arts judges, who reviewed the more than 85 submitted artworks.
The People's Choice award was given to the entry that captured the most popular votes among UT Southwestern employees. That recognition went to Drift, a Work on Paper submitted by Sydney Singleterry, a second-year medical student at UTSW. "I love the intricate detail of wood and capturing each piece's unique character," Ms. Singleterry noted of her entry.
A regular OMOT participant, Dr. Nosyreva also earned a first-place award in Enhanced Photography/Computer Art with Hot Jazz Tonight, as well as an honorable mention for her Mixed Media entry, Mr. Scooter.
Her digital composite Hot Jazz Tonight was a particularly fun project – it includes a photo of Fort Worth's Scat Jazz Lounge and a fragment of Eustache Le Sueur's painting The Muses Clio, Euterpe and Thalia. "By combining scenes from modern and ancient times, I'm trying to create unexpected and funny situations," she said.
Dr. Nosyreva said she's always liked photography, but wasn't very good at first. "I eventually got more experienced at it and was introduced to mixed media, and that was life-changing for me," she said.
"The OMOT art show reflects the diverse talents of our employees and their standards for excellence," said Courtney Crothers, Art Curator at UT Southwestern. "I'm proud to have our first place finishers represent UTSW at NorthPark Center, and I'm equally proud of all who entered their work – this year was a particularly strong showing."
Be sure to view a photo gallery of some of the participants and winners in this year's On My Own Time show.