Wright honored with ACGME's prestigious Dooley Award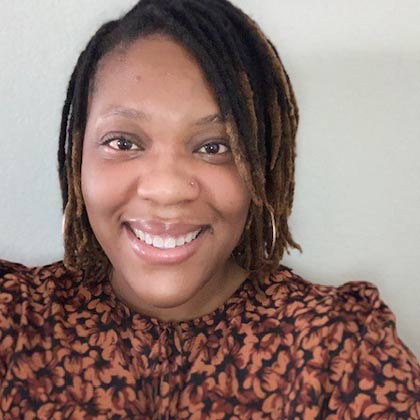 LaToya Wright, BBA, C-TAGME, GME Institutional Administrator at UT Southwestern, received the Debra L. Dooley GME Program Coordinator Excellence Award from the Accreditation Council for Graduate Medical Education (ACGME). The award recognizes program coordinators for their in-depth understanding of the accreditation process, excellent communication and interpersonal skills, and projects to improve residency programs. She will be among recipients featured in the Awards Hall at the virtual 2022 ACGME Annual Educational Conference in the spring.
"These esteemed honorees personify the resolution of the GME community to provide quality, equitable health care and education," said ACGME President and CEO Thomas J. Nasca, M.D. "Now more than ever, it is important to recognize those who serve and those who work every day to ensure the American public that physician education is in the most capable of hands."
"I consider this to be the most prestigious award for program coordinators in graduate medical education. It recognizes my hard work and dedication to medical education over the past decade," said Ms. Wright, who spent over 10 years as program coordinator of the radiology-diagnostic residency program before assuming her new role as the GME Institutional Administrator.
According to her nominator, Ms. Wright played an instrumental role in assisting and advising program coordinators and directors during the creation of the interventional radiology (IR) residency program; coordinated shared efforts across the diagnostic radiology (DR) and IR programs; and helped with the creation of the Clinician-Scientist Track.
"Perhaps most importantly, she keeps up to date with all of the new guidelines and requirements and keeps us on track – all with a 'can-do' attitude and smile on her face," the nomination continued.
Ms. Wright serves on the GME PC Milestones Workgroup that recently launched Milestones for Coordinators at UTSW, and has served on several UTSW GME subcommittees. She also served as the Chair for the Association of Program Coordinators in Radiology (APCR) Archives Committee and on the APCR Board.
In addition, Ms. Wright received first place in both the Judge's Choice and the Viewer's Choice awards for a poster presentation on "Quality Improvement and the Program Coordinator Role" at the Association for Hospital Medical Education's annual conference in collaboration with program coordinators nationwide. She holds a Training Administrators for Graduate Medical Education (TAGME) certification, acknowledging her expertise and competence in managing GME programs.
"It is truly a rewarding feeling to know that I can influence and contribute to medical education outside of the hospital setting," she said.