Starr holding Wyss Distinguished Professorship in Orthopaedic Trauma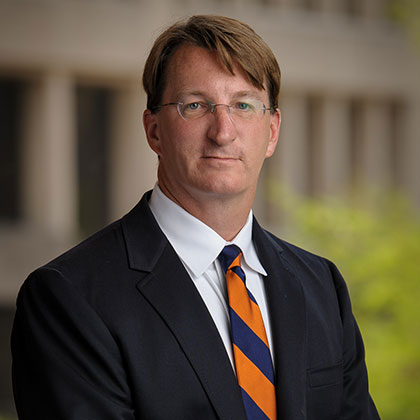 Dr. Adam Starr, Professor of Orthopaedic Surgery, now holds the Hansjörg Wyss Distinguished Professorship in Orthopaedic Trauma.
An innovator among trauma surgeons, Dr. Starr has spent much of his career pioneering minimally invasive treatments for fractures of the pelvis – especially the acetabulum, the bowl-shaped spot on each side of the pelvis where the leg bone fits. Instead of large incisions, he places metal screws through the skin into the bone using what's called a percutaneous technique. Compared with traditional or "open" pelvic surgery, percutaneous surgery enables patients with pelvic fractures to get out of bed and walk around much sooner – and with fewer complications. The incisions are so small the wounds don't break open during healing, a common problem after traditional surgery.
Dr. Starr and his partner, Professor Emeritus of Orthopaedic Surgery Dr. Charles Reinert, also invented the Starr Frame, a device that helps surgeons align the pieces of a broken pelvis using very small incisions. Dr. Starr and the Orthopaedic Trauma team at UTSW take care of hundreds of patients each year with pelvic and acetabular fractures, many of them transferred from other hospitals around the state.
Dr. Starr earned his medical degree in 1992 from UT Southwestern Medical School, where he also completed a residency in orthopaedic surgery (1997) and a fellowship in orthopaedic trauma. A UT Southwestern faculty member since 1997, he is certified by the American Board of Orthopaedic Surgery.