Schmid receives Stanford lifetime achievement award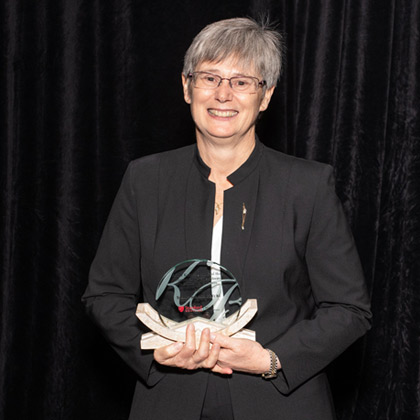 Dr. Sandra Schmid, Chair and Professor of Cell Biology, has received the Stanford Medicine Alumni Association's prestigious Arthur Kornberg and Paul Berg Lifetime Achievement Award in Biomedical Sciences.
"I could not be more honored to be associated, in even this small way, with the legacy of Arthur Kornberg and Paul Berg: the epitome of walking-the-talk scientists and leaders," said Dr. Schmid, who also holds the Cecil H. Green Distinguished Chair in Cellular and Molecular Biology.
Dr. Schmid is internationally recognized for her research on endocytosis – a fundamental cellular process that plays an essential role in nutrient and antigen processing. Her findings have helped delineate the mechanisms through which endosomes move throughout the cell to fulfill their functions. She studies the molecular mechanisms and regulation underlying clathrin-mediated endocytosis, the major pathway for uptake into the cell and a critical regulator of cell-cell and cell-environment communication. A pioneer in defining the GTPase dynamin as a catalyst of membrane fission, she recently discovered isoform-specific functions of dynamin that are activated in cancer cells.
In addition to her research, Dr. Schmid has led the scientific community as co-founding Editor of Traffic, Editor-in-Chief of Molecular Biology of the Cell, and former President of the American Society for Cell Biology (ASCB). She was elected to the American Academy of Arts and Sciences in 2015, and her numerous honors include ASCB/Women in Cell Biology junior and senior career recognition awards, the American Society of Biochemistry and Molecular Biology's William C. Rose Award, and the Biophysical Society's Sir Bernard Katz Award.
Dr. Schmid received her Ph.D. in biochemistry from Stanford in 1985.
Related video: Dr. Schmid talks about her passion for science