Rodriguez-Baez recognized nationally as a master educator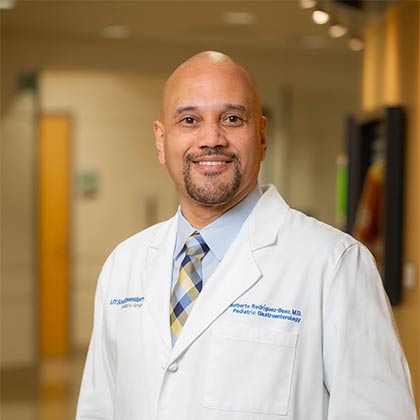 Pediatric liver disease expert Norberto Rodriguez-Baez, M.D., recently received the 2022 Education Excellence Award from the North American Society for Pediatric Gastroenterology, Hepatology, and Nutrition (NASPGHAN).
The national award recognizes individuals who have made a significant and sustained contribution to the field of pediatric gastroenterology, hepatology, and/or nutrition through education scholarship on a national or international basis.
A Professor of Pediatrics, Dr. Rodriguez-Baez has dedicated much of his career to advancing medical education. In addition to caring for children and adolescents at UT Southwestern and Children's Health, he serves as Director of the Pediatric Gastroenterology Fellowship Program and leads pediatric gastroenterology training for residents and medical students.
Bradley Barth, M.D., M.P.H., Chief of the Division of Pediatric Gastroenterology, called Dr. Rodriguez-Baez a creative and energetic academic physician.
"He is the most dedicated and tireless teacher I have encountered in over 20 years, and I am honored to call him a colleague," Dr. Barth said.
Considered an international expert in pediatric liver disease and medical education, Dr. Rodriguez-Baez has been an invited speaker at several national meetings and has delivered presentations in Argentina, Colombia, the Dominican Republic, Puerto Rico, and Ecuador, among other countries. He has previously received several awards for his outstanding performance as an educator. Dr. Rodriguez-Baez joined the UT Southwestern faculty in 2001.