Urologist Raj inducted into ASCI for 2018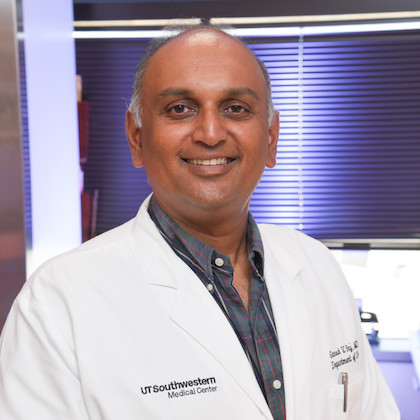 Dr. Ganesh Raj, Professor of Urology and Pharmacology, was among the 78 physician-scientists inducted into the American Society for Clinical Investigation (ASCI) for 2018.
Dr. Raj, who holds The Dr. Paul Peters Chair in Urology in Memory of Rumsey and Louis Strickland, joined the UTSW faculty in 2006 after completing his urology training at Duke University Medical Center and a urologic oncology fellowship at Memorial Sloan Kettering Cancer Center in New York. He is only the third urologist – and the first from UT Southwestern – to be inducted into the ASCI.
Dr. Raj specializes in urologic oncology, including the treatment of high-risk prostate, bladder, kidney, and testis cancers. He is one of the country's leading urologic cancer surgeons, using open, laparoscopic, and robotic techniques. His basic science research has led to the discovery of novel mechanisms of therapeutic resistance and to the development of several new drugs in prostate and breast cancer that are proceeding to first-in-man phase one clinical trials.
Established in 1908, the ASCI is one of the nation's oldest and most respected medical honor societies.