Clements University Hospital and UTSW clinics earn Press Ganey honors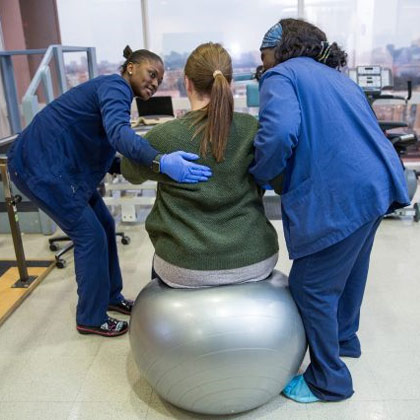 William P. Clements Jr. University Hospital and UTSW clinics have been recognized for excellence in patient satisfaction by Press Ganey, a national consulting firm specializing in health care performance.
On Nov. 18, Press Ganey announced winners of several awards at its 2019 National Client Conference in Orlando, Florida. UTSW received two awards: Pinnacle of Excellence and Guardian of Excellence.


Guardian of Excellence – Patient Experience
Clements University Hospital is a 2019 Press Ganey Guardian of Excellence Award winner. The hospital achieved the distinction by reaching the 95th percentile for each reporting period for the award year for Patient Experience in Inpatient Care.
This award is given to organizations that have achieved the 95th percentile or higher for any of a set of designated survey measures, including likelihood to recommend, overall rating, and/or teamwork.


Pinnacle of Excellence – Patient Experience
Congratulations also go to UT Southwestern's Multi-Specialty Clinic for receiving a spot on the winners' list in the Patient Experience category.
This award is given to top-performing organizations in each category on the basis of extraordinary achievement. The Multi-Specialty Clinic was recognized for maintaining consistently high levels of excellence over three years in patient experience.


UTSW Ambulatory Administration's Team Excellence Awards
Separately from the national Press Ganey honors, UTSW's Ambulatory Administration presented its own Team Excellence Awards on Dec. 5. The internal awards are based on a department's Press Ganey scores. Those leaders use percentile scores to recognize achievements in three categories: standard overall, registration overall, and tests and treatments overall. If a department scores 95 percent or better in two or more categories, the department wins $1,000 (Superior Award). Scoring a 95 percent or better in three categories for the quarter wins $2,000 (Exemplary Award).
Nearly all of the outpatient clinics received a Team Excellence Award at the Dec. 5 Ambulatory Director and Managers meeting – an impressive outcome thanks to a tremendous effort from the outpatient clinics in Q3.


Here's a breakdown of winners of the Superior and Exemplary Awards:
Superior Award (two or three categories with 95 percent or higher)
The Mary Nell and Ralph B. Rogers Magnetic Resonance Imaging Center (Rogers MRI)
Exemplary Award (All three categories with 95 percent or higher)
James W. Aston Ambulatory Care Center
University Hospital Breast Imaging Services
Moncrief Imaging Services
Nuclear Medicine
Outpatient Building
Positron Emission Tomography (PET) Imaging Facility
Clinical Ancillary Services (POB Imaging)
Imaging at UTSW Medical Center at Richardson/Plano