Woodruff named Pew Scholar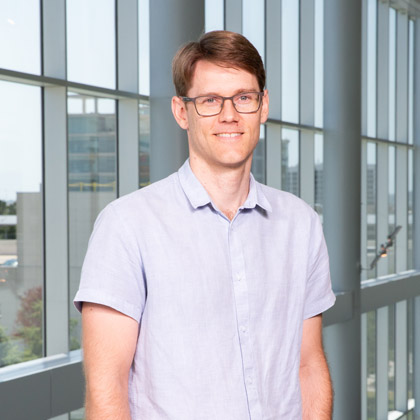 Dr. Jeffrey Woodruff, an Assistant Professor of Cell Biology and Biophysics, today was named one of 22 early career researchers selected to join the Pew Scholars Program in the Biomedical Sciences. Pew Scholars receive four years of funding to invest in foundational research to pursue scientific breakthroughs and advance human health. Dr. Woodruff will explore how mammalian egg cells maintain their quality even after decades spent awaiting fertilization.
"I'm very honored to be selected as a Pew Scholar," Dr. Woodruff said. "I'm also grateful to Dr. Sandra Schmid, who believed in the potential of my research and nominated me for this award." Dr. Schmid is Adjunct Professor and former Chair of Cell Biology.
The Woodruff lab aims to understand the causes of age-related infertility at the molecular level. "Specifically, we combine high-resolution microscopy, synthetic biology, and material science approaches to determine why oocyte quality declines as women approach menopause. Our ultimate goal is to develop new diagnostic tools and interventions to improve the efficiency of in vitro fertilization," he said.
The 2020 Pew Scholars – all of whom hold assistant professor positions ­– were chosen from 191 applicants nominated by leading academic institutions and researchers across the U.S. Current scholars meet annually to share their research and exchange perspectives across diverse health disciplines. Since 1985, more than 1,000 scientists have received awards from Pew Charitable Trusts.
Dr. Woodruff earned a Bachelor of Science in biology from UT Austin and his Ph.D. in molecular and cell biology from the University of California, Berkeley. After postdoctoral work at the Max Planck Institute of Molecular Cell Biology and Genetics in Dresden, Germany, he joined UTSW in 2018 as an E.E. and Greer Garson Fogelson Scholar in Medical Research.