AHA presents Pandey with award for physical activity research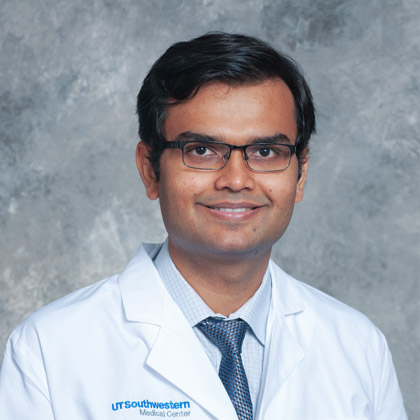 Assistant Professor of Internal Medicine Dr. Ambarish Pandey in the Division of Cardiology has received The Steven N. Blair Award for Excellence in Physical Activity Research from the American Heart Association (AHA). The award recognizes a highly meritorious research presentation in the areas of exercise, physical activity, and cardiovascular health.
Dr. Pandey's work, published in Circulation, focused on evaluating the role of weight loss and cardiorespiratory fitness improvement in reducing the risk of heart failure among patients with Type 2 diabetes. His research group at UT Southwestern collaborated with investigators at the Wake Forest Institute for Regenerative Medicine to conduct this study, using the National Institutes of Health-funded Look AHEAD Trial.
The investigators observed that low fitness at baseline was associated with higher risk of heart failure, specifically heart failure with preserved ejection fraction, a type of heart failure that is difficult to treat and increasing in prevalence. Furthermore, great weight loss and improvement in fitness was associated with lower risk of heart failure independent of other risk factors.
"Our study findings are pretty relevant with regards to developing effective strategies to lower the risk of heart failure in patients with Type 2 diabetes," Dr. Pandey said. "Sustained weight loss and improved physical activity levels to boost cardiorespiratory fitness may be effective in lowering heart failure risk. However, maintaining weight loss and physical activity over sustained periods of time is key to reaping its cardiovascular benefits."
Dr. Pandey presented his research work and received the award on March 5 at the EPI|Lifestyle 2020 Scientific Sessions conference in Phoenix, Arizona.