Ortigoza honored with SPR award for preterm infant feeding research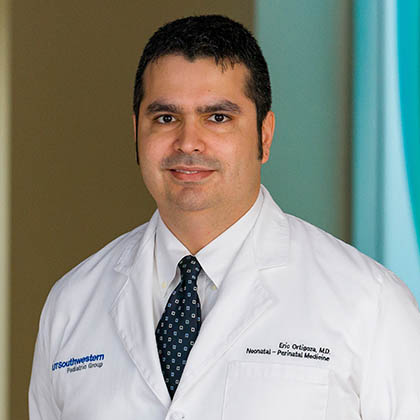 Feeding premature babies remains a challenge in the neonatal intensive care unit (NICU), where daily decisions about nutrition are often based on tradition and experience – instead of evidence. Eric Ortigoza, M.D., Assistant Professor of Pediatrics, is working to change that.
"We still don't fully understand how the neonatal gastrointestinal tract develops after birth," he said. "We have many questions about the best approach to feed premature babies safely without increasing the risk of pathologic feeding intolerance. Research is the avenue for us to answer these questions to improve the quality of life of our patients."
During his neonatal-perinatal medicine fellowship at the University of Florida, Dr. Ortigoza established the feasibility of using multiple bedside technologies – such as electrogastrography (EGG) and abdominal near-infrared spectroscopy (NIRS) – in preterm infants to obtain objective physiologic measures that can potentially be used to identify pathology. These new methodologies represent a distinct line of research, which he brought to UTSW in 2015 to further develop.
"I was attracted by the research infrastructure of UT Southwestern, the large number of births at Parkland Health & Hospital System, and the exceptional subspecialty services at Children's Health," he said.
In a longitudinal, prospective cohort study of 57 preterm infants of different gestational ages, Dr. Ortigoza and his team used noninvasive EGG to measure electricity of the stomach and how it changes with gestational age. They also characterized the babies' gut microbiome.
"Using EGG, we measured a stomach dysrhythmia called tachygastria," he said. "We found that preterm infants spend 30% to 50% of the time in tachygastria, but greater than 50% of the time in tachygastria was associated with a unique gut microbiome characterized by an expansion of Proteobacteria that preceded the development of surgical necrotizing enterocolitis (NEC), a serious gastrointestinal emergency than can lead to significant morbidity or death."
For this work, Dr. Ortigoza received the Society for Pediatric Research's 2021 Award to Enhance Diversity in the Research Workforce.
"This award is encouraging to me as an early career investigator with interest in nutrition and feeding-related research," he said. "The pursuit to fill these knowledge gaps is exciting. The ability to feed preterm babies safely without increasing the risk of gastrointestinal complications has the potential to change neonatal intensive care, improving the quality of life of future preterm infants."
Next, Dr. Ortigoza and his research team – which includes nurse practitioners, bedside nurses, physicians, biomedical engineers, a research nurse coordinator, a dietitian, and a statistician – will investigate whether EGG, NIRS, and other noninvasive technologies may be potential tools to differentiate between developmental feeding intolerance from gastrointestinal immaturity and pathologic feeding intolerance from gastrointestinal pathology, such as NEC.
"Currently, we rely on nonspecific clinical signs and symptoms of feeding intolerance that do not accurately predict gastrointestinal pathology," he said. "We need more objective, specific biomarkers to identify pathology more accurately."