Blomquist receives honors for excellence in resident education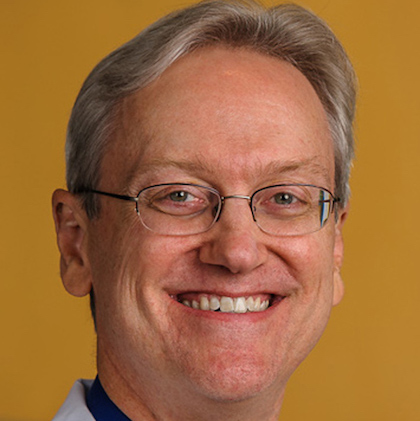 Dr. Preston Blomquist, Professor of Ophthalmology, has been selected to receive the Straatsma Award for Excellence in Resident Education for 2018 from the Association of University Professors of Ophthalmology (AUPO) and the American Academy of Ophthalmology.
The award, which includes a cash prize and invitation to speak at the AUPO's annual meeting later this year, honors Dr. Blomquist's dedication to the principles and significance of residency education as well as his accomplishments in the field.
As Director of UT Southwestern's Ophthalmology Residency Program – the largest of its type in the nation – Dr. Blomquist has supervised 164 residents to date over the course of 17 years. In addition, he has served on the Ophthalmology Residency Review Committee for six years, including as Vice Chair, and still serves on the Standing Panel for Accreditation Appeals in Ophthalmology.
Chair of Ophthalmology Dr. James McCulley, who holds The David Bruton, Jr. Chair in Ophthalmology, described Dr. Blomquist as an outspoken advocate for comprehensive training of ophthalmology residents to include increased surgical experience. A large part of Dr. Blomquist's research, in fact, focuses on resident training, especially in the area of cataract surgery using the latest technologies.
"He hopes his greatest success has been the development of the next generation of ophthalmologists coming from our program. He has been a positive influence for each of them as they 'pay it forward,'" Dr. McCulley said.
Among his other accomplishments and honors, Dr. Blomquist is executive editor of Practical Ophthalmology: A Manual for Beginning Residents, has been recognized as an outstanding educator by the Southwestern Academy of Teachers (SWAT), and was among inaugural UTSW recipients of the Regents' Outstanding Teaching Awards in 2012.
A Distinguished Teaching Professor, Dr. Blomquist holds the Dr. W. Maxwell Thomas Chair in Ophthalmology.