Levine receives Sutton Scientific Achievement Award for NASA research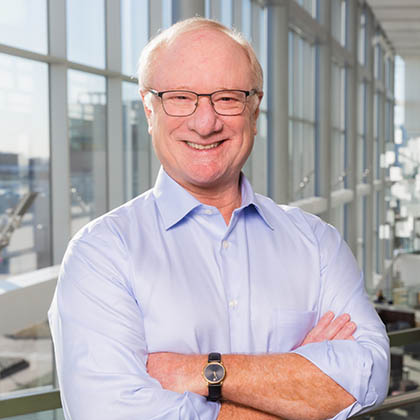 Over three decades ago, Benjamin Levine, M.D., applied to be a NASA astronaut. Being disqualified – he's colorblind – was a good thing. It gave Dr. Levine, Professor of Internal Medicine and Director of the Institute for Exercise and Environmental Medicine, a partnership between UTSW and Texas Health Presbyterian Dallas, the opportunity to ask key questions as a researcher.
In September, the Space Medicine Association presented Dr. Levine with the 2021 Jeffrey P. Sutton Scientific Achievement Award for his work with NASA studying spaceflight's effect on the human body.
The annual award recognizes an individual or team for research with significant scholarship, innovation, and impact for space medicine. The award was presented by Jeffrey Sutton, M.D., Ph.D., Director of the Center for Space Medicine at Baylor College of Medicine.
"As a clinical cardiologist and expert in space physiology, Ben has been a valuable resource to NASA in evaluating and managing cardiovascular problems in astronauts," Dr. Sutton said, noting Dr. Levine also has mentored countless students and served in substantial scientific leadership roles. "However, it is in space biomedical research where Dr. Levine has truly excelled, making him most deserving of this award."
As a young physician-scientist, Dr. Levine placed the first invasive central venous pressure catheters in astronauts, demonstrating that central venous pressure decreases rather than increases in space, as had been previously thought. He also defined the concept of cardiac atrophy as it applies to bedrest and spaceflight – and identified specific interventions to prevent it.
Dr. Levine's ambitious series of experiments in the Shuttle era found that sympathetic nerve activity is increased in space – findings that pointed the scientific community toward the mechanisms of reduced stroke volume. In addition, his team discovered that adequate exercise aboard the International Space Station could prevent cardiac atrophy and orthostatic intolerance, Dr. Sutton noted.
"There are many other scientific accomplishments, including Ben's pivotal findings regarding invasive measurements of intracranial pressure in volunteers during parabolic flight, and his contributions to understanding spaceflight-associated neuro-ocular syndrome and potential countermeasures," Dr. Sutton added.
"I am very grateful to receive this award from the Space Medicine Association," Dr. Levine said. "Some of the most exciting and rewarding work I have done in my career has been to address the critical research questions regarding the cardiovascular adaptations to spaceflight. This research effort has also led to one of my areas of clinical expertise, which is taking care of patients with 'gravity diseases' – that is, those who can't stand up on Earth, or faint. The ability to merge my research focus with an important clinical application is one of the true joys of academic medicine, and I am grateful to NASA and my colleagues in space medicine for this opportunity and recognition."