Howell-Stampley receives Women Who STEAM Award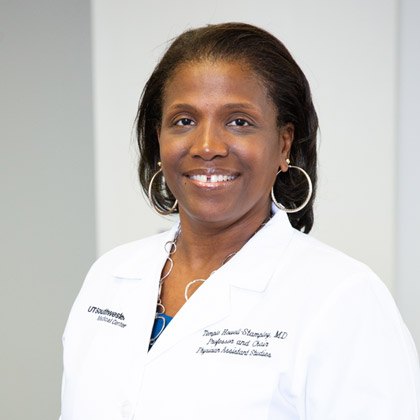 Dr. Temple Howell-Stampley will receive a 2020 Women Who STEAM Award from The Dallas (TX) Chapter of The Links Inc.
She was recognized as a phenomenal leader in the areas of Science, Technology, Engineering, Art and Mathematics (STEAM), and also for being "committed to educating, volunteering and mentoring to create a pipeline to STEAM education and ultimately STEAM careers for women."
"My love of science began at an early age and was cultivated by my mother, an educator and mentor herself, and dozens of other women, who inspired and encouraged me from childhood into adulthood," said Dr. Howell-Stampley. "These women were instrumental in helping me develop into the leader, educator, and clinician that I am today. As a result of their efforts, I have purposefully dedicated my own life and career in service of others."
Dr. Howell-Stampley is Chair of the Department of Physician Assistant Studies in the School of Health Professions and a Professor of Internal Medicine.
"Taking the lessons I have learned through the years and applying them in ways to inspire other young girls to aim high and to dream big is both exciting and rewarding," said Dr. Howell-Stampley. "My desire is for young girls to know that they too can become whatever they aspire to become and that nothing is too great for them to achieve. My mentorship provides them with the visible proof they need that it can be done."
Dr. Howell-Stampley will be honored by the Dallas (TX) Chapter of The Links Inc. for her outstanding contributions and mentorship at the virtual 2020 Women Who STEAM Awards Luncheon, benefiting the Dallas Links STEAM Academy and Scholarship Program, on Friday, August 28, 2020 at 11:30 CST. Register here to reserve your complimentary virtual seat at this inspiring virtual awards luncheon.
Established in 1946, The Links Inc., is one of the nation's oldest and largest volunteer service organizations. The organization consists of more than 15,000 women with 288 chapters nationally and internationally.
Dr. Howell-Stampley holds the P. Eugene Jones, Ph.D., PA-C Professorship in Physician Assistant Studies.