Gold Humanism Honor Society inducts 42 new members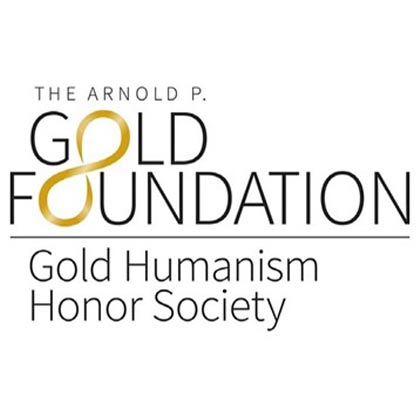 The Arnold P. Gold Foundation Gold Humanism Honor Society (GHHS) recently inducted 34 Medical School student members, four faculty members, and four residents into the ranks of its UT Southwestern Medical Center chapter. The pinning ceremony for the Class of 2024 was held March 15 at the A.W. Harris Faculty-Alumni Center.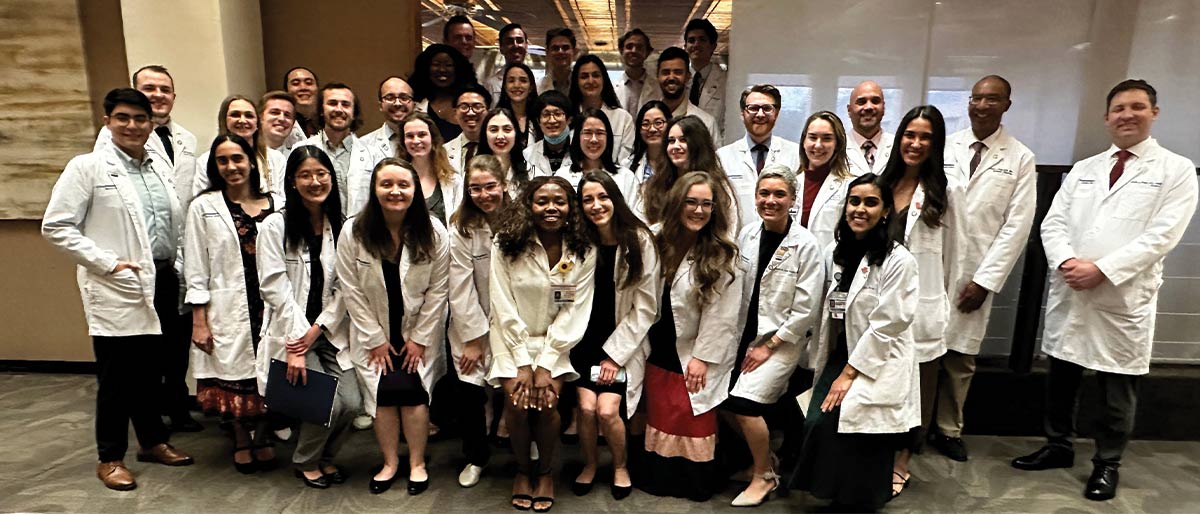 Keynote speaker for the event was John C. Mansour, M.D., Professor of Surgery and Vice Chair for Quality and Safety, who spoke on "Appreciating the Impact."
Medical School Class of 2024 inductees:
(asterisk denotes Class of 2024 co-Presidents)
Yasmeen Alayli
Tyler Douglas Anderson
Sarah Cao
Joanna Assadourian
Drew Baxley
Dylan Raymond Beams
Lilly Rose Carter
Luming Chen
Naomi Mae Cohen
Connor J. Eichenwald
Avery Hager
Richard Tanner Hardy
Maria Valentina Harmjanz
Christian Hernandez-Zegada*
Stanton Heydinger
Kathryn Marie Kaihlanen
Zara Khan
Melanie Gwen Lopez
Sandra Edith Loza-Avalos
Michelle Mao
Alec Mason
Samantha Mendoza Stanteen
Tanner Mitton
Paula Marie Mofor
Isaac Garth Myres
Emmanuella Oduguwa
Molly Schlamp
Daniel Jasper Tai
Jonathan Tao
Ian James Trautmann
Elizabeth Ching Siew Twichell
Jesus Valencia
Alexa Renae Wilden*
Richard Wu
Judy Jingyi Xue
GHHS faculty inductees for 2024:
David Auerbach, M.D., Associate Professor of Internal Medicine
Anthony Froix, M.D., Assistant Professor of Surgery
Norberto Rodriguez-Baez, M.D., Professor of Pediatrics and Associate Dean of Student Affairs for the Office of Student Diversity and Inclusion
John Z. Sadler, M.D., Professor of Psychiatry and Distinguished Teaching Professor
Resident inductees for 2024:
William Brandon, M.D.
Pallavi Dev, M.D.
Griffin Olsen, M.D.
Dorothy "Jet" Patterson, M.D.