Fernandez appointed to Texas Opioid Abatement Fund Council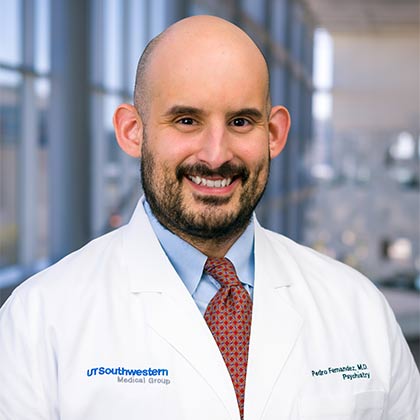 Pedro Fernandez, M.D., Assistant Professor of Psychiatry, has been appointed to the Texas Opioid Abatement Fund Council. Part of the Texas Comptroller's Office, the 14-member Council helps ensure that money recovered through the statewide opioid settlement agreement is allocated fairly and spent to remediate the opioid crisis using efficient, cost-effective methods.
Dr. Fernandez is one of six regional members appointed by the Executive Commissioner of the Texas Health and Human Services Commission.
"There are many individuals and families across the state who are suffering because of the opioid crisis. Despite the need for treatment programs, there are very few available to people in Texas. I feel both privileged and honored to help our communities in Texas by increasing access to evidence-based treatment," said Dr. Fernandez, who is also co-Chief of Psychiatry at Parkland Health.
After receiving his medical degree from Boston University School of Medicine, Dr. Fernandez completed his residency at Boston Medical Center and his fellowship training at Yale University. He is board-certified in consultation-liaison psychiatry and addiction medicine, and his clinical and advocacy interests include behavioral health integration, community psychiatry, and working with refugee/immigrant groups.