Drazner receives Master Clinician Award from AHA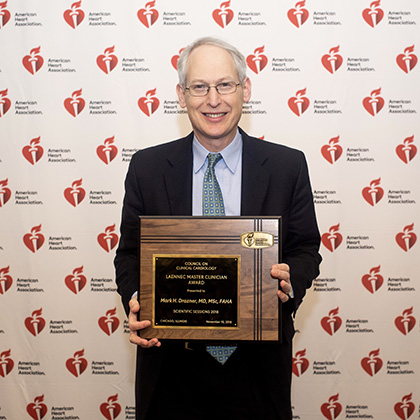 This story was originally posted on Center Times Plus on February 13, 2019.
---
Dr. Mark Drazner, Clinical Chief of Cardiology at UT Southwestern, recently received the 2018 Laennec Master Clinician Award from the American Heart Association's Council on Clinical Cardiology.
The award, presented at the AHA's Scientific Sessions annual conference in Chicago in November, honors outstanding contributions to teaching and patient care in cardiovascular disease.
"I am truly humbled to have been chosen as recipient of the 2018 Laennec Master Clinician Award," said Dr. Drazner, who also serves as Medical Director of the Left Ventricular Assist Device (LVAD) and Cardiac Transplantation Program.
Dr. Drazner has more than 20 years of experience treating patients with cardiomyopathy and advanced heart failure. One of the first physicians in North Texas to be certified by the American Board of Internal Medicine in Advanced Heart Failure and Transplant Cardiology, he has been at the forefront of research in these specialties and is a nationally recognized expert in these fields.
"I am grateful to the numerous outstanding physician role models I have had over the years, many of whom were at UT Southwestern, for teaching me how to practice medicine and making me the clinician I am today," he added. "This award really is a recognition of the amazing clinical care and training environment we have at UT Southwestern."
Dr. Drazner is a Professor of Internal Medicine and holds the James M. Wooten Chair in Cardiology.