Psychiatry postdoc named a DISD Volunteer of the Year for mentoring work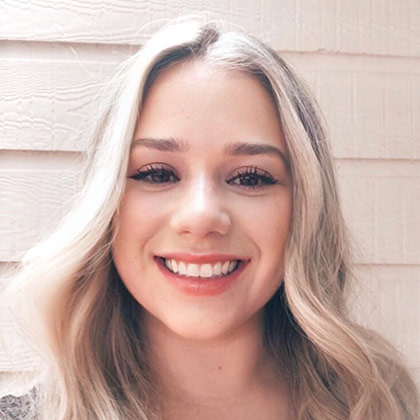 In 2018, Dr. Anastasia Bobilev, a postdoctoral researcher in the Department of Psychiatry, began volunteering as a mentor for college-bound students of the Dallas Independent School District's Irma Lerma Rangel Young Women's Leadership School. Rangel, located near Fair Park and the first public all-girls college preparatory school in Texas, was founded in 2004 by a public-private partnership between the DISD and the Young Women's Preparatory Network (YWPN).
As a mentor, Dr. Bobilev meets monthly with seniors – helping them navigate their final year of high school, college applications, and the college selection process – and speaks at Career Day to middle and high school students about careers in science, technology, engineering, and math (STEM).
After her first year, Dr. Bobilev asked if she could organize a series of panels to give students face-to-face time with women in various STEM-related jobs to expose them to possible career paths. She got the green light.
During the 2019-2020 school year, Dr. Bobilev launched a monthly lunchtime panel series of women in trainee or early career positions to speak to Rangel high school students, drawing panelists from UTSW's Women in Science and Medicine Advisory Committee (WISMAC), for which she is the postdoctoral representative, and the Alliance of Women Scientists (AWS). Martyna Kosno, a graduate student in biological chemistry, serves as a co-organizer.
In honor of her service as a mentor, Dr. Bobilev was named the 2019-2020 DISD Volunteer of the Year for Student Support. "I am honored to have been recognized for this work and see it as a testament to the impact of this programming on the next generation of female STEM leaders," she said. "This work led me to further pursue my interest in nonprofit service, and I was selected as part of the Young Leaders Council by VolunteerNow for the 2020 cohort."
"I believe in the power of grassroots outreach. I have seen the impact on individual students that is possible when they are given opportunities to interact with mentors who look like them, in a safe environment where they are encouraged to ask any and all questions," Dr. Bobilev said.
She is continuing her mentoring work at Rangel – and beyond. When the panel discussions transitioned online during the pandemic, it opened the door for more students to get involved.
"This year, because of restrictions on in-person events, we moved this series online and are currently hosting two seminars per month – one for middle school and one for high school," she said. The online series includes past topics as well as new panels on careers in engineering and dentistry – and a prioritized emphasis on diversity.
"Since we have moved online, we are able to offer these seminars to the entire YWPN network of schools – nine in total across the state of Texas," she said.
UTSW community members who are interested in supporting or participating in future women in STEM outreach activities can anastasia.bobilev@utsouthwestern.edu Dr. Bobilev.