Diercks honored with ACEP Leadership Award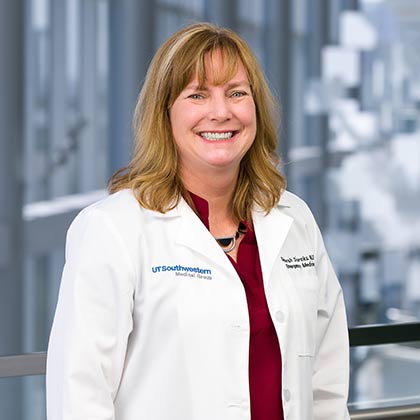 Deborah Diercks, M.D., M.S., Professor and Chair of the Department of Emergency Medicine, was awarded the 2022 Outstanding Contribution in Research Award by the American College of Emergency Physicians (ACEP) for her work in cardiovascular emergency medicine. The award is one of ACEP's select Leadership Awards, the College's annual awards honoring exceptional contributions across several categories including policy, advocacy, education, and research.
A nationally recognized leader in the specialty, Dr. Diercks oversees the emergency medicine programs for UT Southwestern and its two major affiliated hospitals, Parkland Memorial Hospital and William P. Clements Jr. University Hospital, which together represent one of the largest emergency medicine programs in the country.
Her research particularly focuses on acute cardiovascular emergencies. She has received funding from the National Institutes of Health, among other sources, for studies on early management of acute coronary syndromes, the influence of gender on symptom characteristics, and utilization of cardiac biomarkers.
Dr. Diercks earned her medical degree from Tufts University School of Medicine. Upon completing her residency in emergency medicine at the University of Cincinnati, she joined the faculty at the University of California, Davis. While there, she was a major contributor to the growth and development of UC Davis' emergency medicine programs. She joined UT Southwestern as the inaugural Chair of the Department of Emergency Medicine in 2014.