UTSW cardiologists recognized for mentorship, research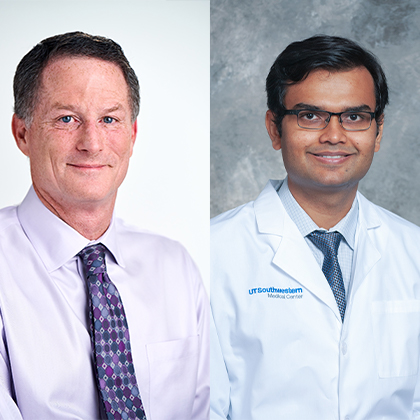 The American College of Cardiology (ACC) has awarded the 2020 Distinguished Mentor Award to Dr. James de Lemos in honor of contributions to the cardiovasculr profession.
"This honor is particularly meaningful for me, as mentorship is by far the most rewarding part of my career," said Dr. de Lemos, Professor of Internal Medicine in the Division of Cardiology. "I'm continually amazed by the energy, talent, and creativity of the young women and men I have the privilege to mentor."
The Distinguished Mentor Award is given to a Fellow of the ACC who has demonstrated a dedication to mentoring physicians and/or other members of the cardiac care team across a spectrum of professional activities and noticeably shaped the careers of current and future leaders in cardiovascular medicine.
In a separate ACC honor, Dr. Ambarish Pandey, Assistant Professor of Internal Medicine in the Division of Cardiology, was recognized with a Young Author Achievement Award for outstanding research published in one of the Journal of the American College of Cardiology's sister journals.
"Our ongoing research work, supported by the Texas Health Resources Scholarship, is aimed at reducing the burden of heart failure in at-risk individuals, including those with a history of cancer and chemotherapy," said Dr. Pandey.
The Young Author Achievement Awards are presented to researchers within the first five years of their training. Dr. Pandey's study, "Efficacy of Neurohormonal Therapies in Preventing Cardiotoxicity in Patients With Cancer Under Chemotherapy," was mentored by Dr. Javed Butler, Professor and Chairman of the Department of Medicine at the University of Mississippi.
Dr. de Lemos holds the Sweetheart Ball-Kern Wildenthal, M.D., Ph.D. Distinguished Chair in Cardiology.