Liver expert Lee receives high honor from Columbia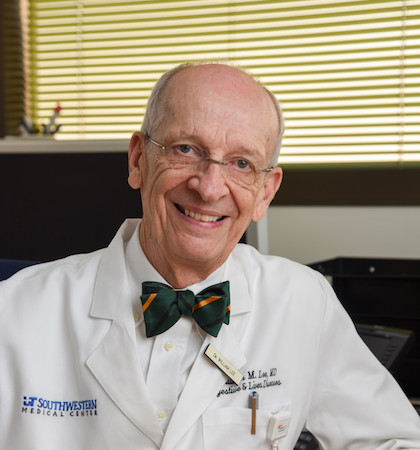 Dr. William M. Lee, a world-renowned liver specialist and faculty member since 1990, has been honored by the Columbia University Vagelos College of Physicians and Surgeons Alumni Association in recognition of his outstanding body of accomplishments. Dr. Lee received the 2018 Gold Medal for Excellence in Clinical Medicine, which represents the highest honor the group bestows.
Dr. Lee is a Professor of Internal Medicine who holds the Meredith Mosle Chair in Liver Disease in his honor. He has led or has been the principal investigator at UTSW for several National Institutes of Health (NIH) investigations, often through the NIH's National Institute of Diabetes and Digestive and Kidney Diseases.
Over the years these investigations have improved patient care and saved lives by giving physicians worldwide a clearer picture of what acute liver failure (ALF) looks like and how best to treat it – as well as how acetaminophen poisoning became the No. 1 cause of ALF in the United States.
After graduating from Amherst College, Dr. Lee received his medical education and training at Columbia University, Columbia-Presbyterian Medical Center, and King's College Hospital in London before embarking upon a career in academic medicine. His clinical research and patient care have focused on all forms of hepatitis, as well as causes of inflammation and damage to the liver.