Chook honored with Gilman Chair in Molecular Pharmacology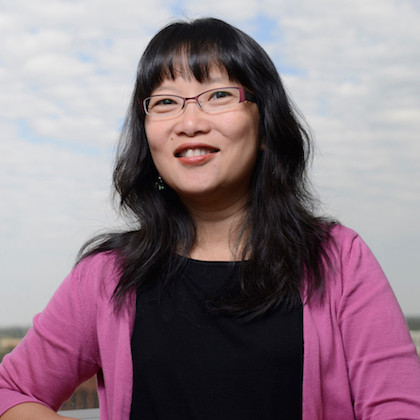 Dr. Yuh Min Chook, Professor of Pharmacology and Biophysics, has been selected to hold the Alfred and Mabel Gilman Chair in Molecular Pharmacology.
Dr. Chook studies protein transport. Advances from Dr. Chook's laboratory have been instrumental to the development of potential therapeutics that are now the subject of nearly two dozen clinical trials for a variety of cancers, including those of the blood (leukemia), the brain (neuroblastoma), and the skin (melanoma). Her studies combine structural biology, biochemistry, biophysics, and bioinformatics to investigate a class of molecules called nuclear transport receptors that carry protein cargo into (importins) and out of (exportins) the nucleus, the cell's command center.
When Dr. Chook began her work, only one kind of import signal had been identified. Dr. Chook identified the second class of import signals (named PY-NLS) now recognized as central to the development of an uncommon, inherited form of amyotrophic lateral sclerosis (ALS) in which the Fused in Sarcoma protein cargo cannot properly enter the nucleus and aggregates in the cell's cytoplasm surrounding the nucleus. She subsequently led an interdisciplinary team that provided the world's first image of the structure of an exportin attached to its protein cargo, laying the foundation for drug development.
Dr. Chook was recruited to UT Southwestern in 2001 as an Assistant Professor and Eugene McDermott Scholar in Medical Research following postdoctoral research at New York's Rockefeller University, where she was mentored by 1999 Nobel Laureate in Physiology or Medicine Dr. Günter Blobel. Dr. Chook earned a dual undergraduate degree in chemistry and biology from Bryn Mawr College in Pennsylvania and a doctorate in biophysics from Harvard University, where her mentor was 1976 Nobel Laureate in Chemistry Dr. William N. Lipscomb.