Chen receives V Foundation grant for cancer research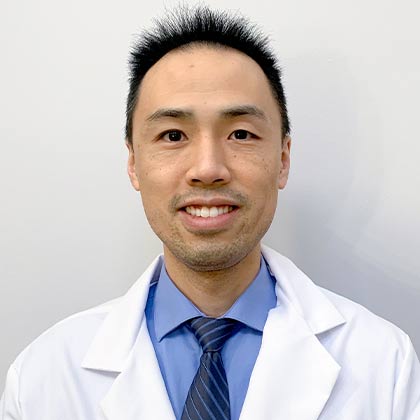 Pediatric physician-scientist Kenneth Chen, M.D., has been selected to receive a V Scholar Grant from the V Foundation for Cancer Research to support his research on how a pair of related genes regulate pro-growth signals in pineoblastoma.
Pineoblastoma is a type of cancer that starts in the brain's pineal gland, which is located in the center of the brain and produces the hormone melatonin. Cancer can arise when pro-growth signals such as IGF2 are not turned "off," but scientists do not yet know which signals are most important. The study will examine whether IGF2 is the most important and how the signal gets turned "on."
"Lastly, it will test whether a drug that targets IGF2 will be effective in these cancers," said Dr. Chen, a UT Southwestern Assistant Professor of Pediatrics and in the Children's Medical Center Research Institute at UT Southwestern. He is also a member of UT Southwestern's Harold C. Simmons Comprehensive Cancer Center and an attending physician at the Gill Center for Cancer and Blood Disorders at Children's Health.
V Scholar Grants support early tenure-track faculty by funding a range of projects including laboratory-based and bench-to-bedside research. Each two-year grant includes $200,000.
Like father, like son: Dr. Chen's father – a scientist at the UC Davis Comprehensive Cancer Center – was also selected to receive a 2022 grant from the V Foundation. Moon Chen Jr., Ph.D., M.P.H., received a Translational Grant to study using human interventions to enhance lung cancer screening for eligible patients.