UTSW public safety officer receives Life Saving Award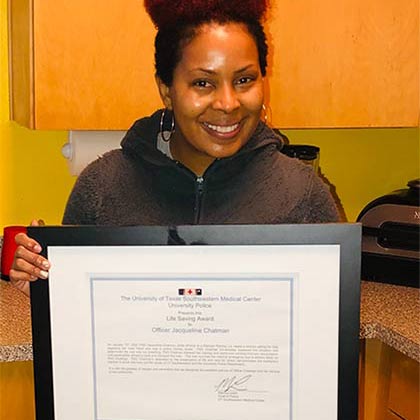 After completing CPR training at UT Southwestern in January 2022, Public Safety Officer Jacqueline Chatman headed off campus for lunch and shopping with her daughter for what she thought would be a typical day.
But less than an hour later, her day took a dramatic turn. She put the skills she had just learned in the class to work and saved the life of a man who had collapsed in the parking lot of a Dallas-area shopping center.
"I could hear a woman screaming, 'Don't die, don't die,'" said Officer Chatman. "I could tell the man wasn't breathing, and I knew I would have to do everything I had just learned in the CPR class to help him."
For Officer Chatman's heroic efforts, she received the UT System Police Life Saving Award earlier this year. UTSW Police Chief Marcus Lewis presented her with the award, which consists of a certificate and lapel pin, given in recognition of selfless efforts to save lives on and off duty.
UT Southwestern Police Lt. Michael J. Nowik, B Shift Watch Commander, praised Officer Chatman for her quick response.
"The award demonstrates one of the core principles of our law enforcement profession, the preservation of life," he said. "Public Safety Officer Chatman currently wears the Life Saving Award ribbon on her uniform when on duty."
Officer Chatman, who had only worked for UTSW three months at the time, said the man was in a car with his caregiver when he collapsed. As soon as Officer Chatman heard the caregiver crying for help, she knew she had to perform CPR. Meanwhile, a woman nearby called 911.
Officer Chatman ran to the car where the man was slumped over, opened his shirt, and began compressions until paramedics arrived and took him to the hospital. "I did everything just like I had seen in the video during class," she said. "I did seven or eight compressions and he started breathing."
About a week later, the man was in better health and recovering from the medical emergency, Lt. Nowik said. The EMS service reported that he was in recovery from the medical emergency and confirmed that Officer Chatman's quick actions probably saved the man's life that day.
"It's exciting to be at the right place, at the right time," Officer Chatman said.