Capers elected to Association of University Cardiologists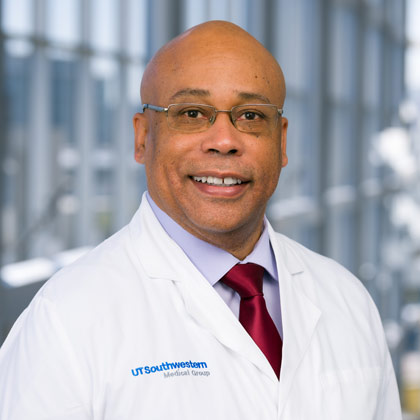 Dr. Quinn Capers IV, Associate Dean for Faculty Diversity and Vice Chair for Diversity and Inclusion in the Department of Internal Medicine, has been elected to the Association of University Cardiologists (AUC), joining a dozen current UTSW faculty members in the invitation-only association of cardiology luminaries.
"I am incredibly honored to be elected into this prestigious group of university-based cardiologists," said Dr. Capers, who is also a Professor of Internal Medicine and an interventional cardiologist by training. "These physicians are incredibly impactful leaders in our specialty – legends of cardiology who wrote the textbooks that I studied as a medical student."
Founded in 1961, the AUC is limited to an active membership of 135 U.S. academic cardiologists – leaders and investigators who shape the national course of research and training in cardiovascular disease. Members are elected by their peers and meet each January for a two-day session of scientific interchange.
"Dr. Capers' election to this prestigious organization is well-deserved recognition for all of his accomplishments and his impact in academic cardiology," said Dr. Thomas Wang, Chair of Internal Medicine. "It's also fantastic that UTSW is so well represented in AUC, a nice testament to the prominent contributions of our cardiology division."
Academic cardiology allows Dr. Capers to combine his lifelong calling of medicine with two passions he discovered after becoming a doctor: teaching and scholarly activity.
A nationally recognized leader on diversity and inclusion in academic medicine, he served as Vice Dean for Faculty Affairs and Professor of Internal Medicine at Ohio State University's College of Medicine before joining UT Southwestern in December 2020. During his decade as Associate Dean for Admissions, Dr. Capers led efforts to make Ohio State one of the most diverse medical schools in the U.S. In his new roles at UT Southwestern, he oversees and develops programs and initiatives that enable UTSW to achieve goals in expanding underrepresented minority faculty.