Brown, Goldstein honored as fellows in National Academy of Inventors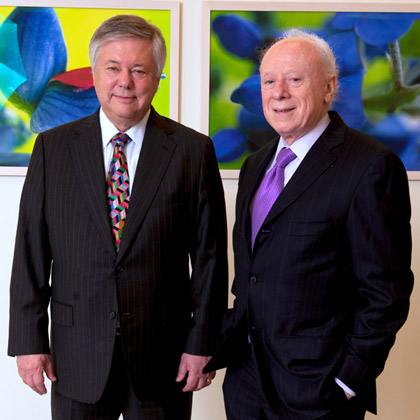 UT Southwestern Nobel Laureates Drs. Michael S. Brown and Joseph L. Goldstein have been selected as 2019 fellows of the National Academy of Inventors (NAI).
The NAI is a member organization of U.S. and international universities and governmental and nonprofit research institutes with more than 4,000 individual inventor members and fellows from 250-plus institutions. Drs. Brown and Goldstein are among 168 scientists named as new fellows.
The UTSW scientists, who have run a laboratory together since 1972, jointly hold 30 U.S. patents. They shared the 1985 Nobel Prize in Physiology or Medicine and received the U.S. National Medal of Science and many other awards for discovering the low-density lipoprotein receptor and working out how it controls cholesterol levels in the blood. Their work laid the theoretical groundwork for development of the statin class of cholesterol-lowering drugs, now taken daily by millions of people around the world.
Dr. Brown, Professor of Molecular Genetics and Internal Medicine, is Director of the Erik Jonsson Center for Research in Molecular Genetics and Human Disease. Dr. Goldstein is Chair of Molecular Genetics and Professor of Molecular Genetics and Internal Medicine.
The induction ceremony will be held April 10 during the NAI's annual meeting in Phoenix.
The NAI was founded in 2010 to recognize and encourage inventors with patents issued from the United States Patent and Trademark Office, enhance the visibility of academic technology and innovation, encourage the disclosure of intellectual property, educate and mentor innovative students, and translate the inventions of its members to benefit society.