Bordes Edgar honored with Tony Wong Diversity Award for mentorship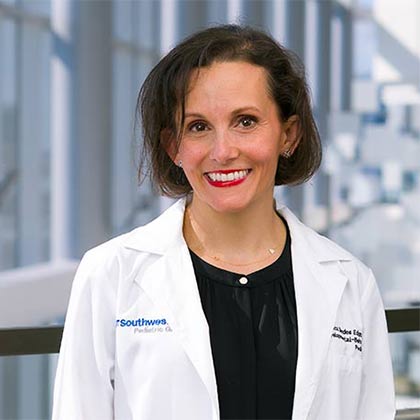 Graduate school is where Veronica Bordes Edgar, Ph.D., ABPP, first discovered her passion for mentoring. Her own research revealed the powerful impact that mentoring had on Latinx college students' drive to graduate. She also studied the mentoring experiences of female graduate students and identified key variables that they found impactful – findings that have helped in her own mentoring efforts.
"Now I am fortunate to get to mentor trainees at multiple levels, including undergraduate students, graduate students, fellows in psychology and neuropsychology, and medical residents. I also get to mentor junior faculty here at UT Southwestern and nationally," said Dr. Bordes Edgar, Associate Professor of Psychiatry and Pediatrics. "In addition, I work with the Women in Medicine group here at UTSW, but also I work with males and mentees who are struggling through issues of racism and diversity."
Dr. Bordes Edgar recently received the 2021 Tony Wong Diversity Award for Outstanding Work Related to Diversity as a Mentor, given to a National Academy of Neuropsychology member who has made a significant contribution to the field of multicultural neuropsychology.
"I am very humbled by this honor. Several of my former students nominated me for this award. It was touching to hear their words of how I impacted their lives, because each mentee also leaves an impact on my life as well," she said.
Dr. Bordes Edgar, who is also President of the Hispanic Neuropsychological Society, personally knows the difference a mentor can make.
"I am here because I was fortunate enough to have mentors along my journey who pushed me beyond what I thought I was capable of. It allowed me to break barriers and confront challenges that came my way. I hope that my mentoring of future psychologists and physicians will encourage them to do the same," she said.
Dr. Bordes Edgar's favorite part of mentoring is watching a mentee grow personally and professionally.
"I enjoy getting to know them and supporting or encouraging them when they face obstacles in their careers," she said.