Bishop holding Jenevein Chair in Pathology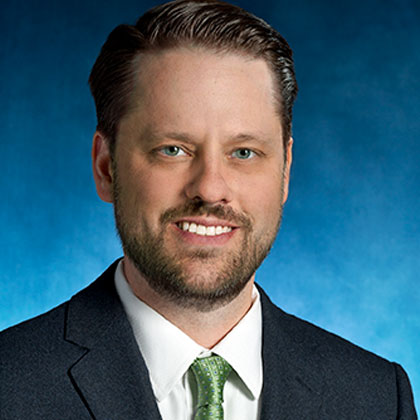 Dr. Justin Bishop, Associate Professor of Pathology, has been named the new holder of the Jane B. and Edwin P. Jenevein, M.D. Chair in Pathology.
An expert in the surgical pathology diagnosis of head and neck and endocrine diseases, Dr. Bishop leads Surgical Pathology and Head and Neck Pathology at UT Southwestern.
He has published over 200 journal articles, 20 book chapters, and five books, and lectured extensively both nationally and internationally. Most recently, he contributed 15 chapters to the World Health Organization's Classification of Head and Neck Tumors.
A native Texan, Dr. Bishop grew up in Arlington and earned his undergraduate and medical degrees at Texas Tech University. He completed his pathology residency at The Johns Hopkins Hospital in Baltimore. Dr. Bishop served as faculty at Johns Hopkins before being recruited to UTSW.