Hand surgeon Bass appointed to Carrell Distinguished Professorship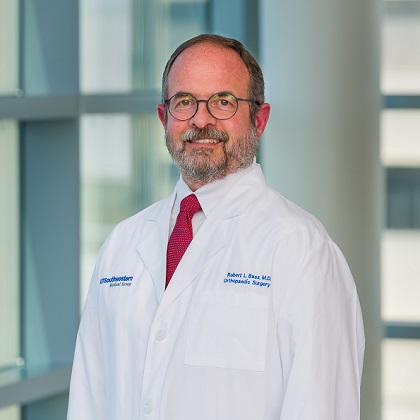 Dr. Robert L. Bass, Associate Professor of Orthopaedic Surgery with a joint appointment in Plastic Surgery, has been appointed to hold the W.B. Carrell Distinguished Professorship of Orthopaedic Surgery.
Dr. Bass is specially trained to address medical issues of the hand, one of the most anatomically intricate areas of the body that is also vulnerable to harm from everyday activities. He cares for acute and chronic injuries to the hand and upper extremity including the wrist, forearm, elbow, and upper arm using techniques such as endoscopic carpal tunnel release, wrist and elbow reconstruction including total elbow replacement, and fracture management of the entire upper extremity.
A graduate of UT Southwestern Medical School, Dr. Bass will celebrate his 30-year class reunion this fall. He completed his orthopaedic surgery residency at the University of Iowa, then a hand and microsurgery fellowship in Cincinnati, where he earned certification as a hand surgery specialist.
Dr. Bass, who earned his undergraduate degree at UT Austin, is the Medical Director for the Orthopaedic Surgery Clinic and recently completed his MBA with an emphasis on health care organizational leadership.