Nijhawan, Zhu elected to American Society for Clinical Investigation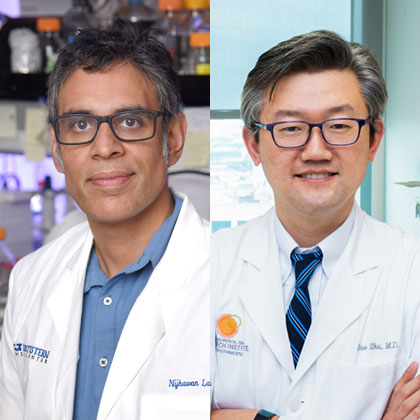 Dr. Deepak Nijhawan, Assistant Professor of Internal Medicine and Biochemistry, and Dr. Hao Zhu, an Associate Professor at the Children's Medical Center Research Institute at UT Southwestern (CRI) and of Internal Medicine and Pediatrics, have been elected to membership in the American Society for Clinical Investigation (ASCI).
An honor society for early career physician-scientists, ASCI includes more than 3,100 members. Eighty new members – including eight from Texas institutions – were inducted April 5 in Chicago. To date, 31 current or former UTSW faculty members have been elected to membership.
In 2018, Dr. Nijhawan's work identifying cancer treatment targets led to his selection as a co-recipient of the ASCI's Donald Seldin-Holly Smith Award for Pioneering Research. In particular, his laboratory has made significant advances working with the anti-cancer agents indisulam and CD437. In 2016, Dr. Nijhawan's group identified the protein target of CD437, followed the next year by the identification of the target of indisulam and of cancer-cell variants most susceptible to its effects. These efforts have led to drug development partnerships.
Dr. Nijhawan earned both his medical and doctoral degrees in 2005 from UT Southwestern's acclaimed Medical Scientist Training Program.
Dr. Zhu, a faculty member since 2012, investigates the relationship among injury, regeneration, and cancer. His research team seeks to identify the genes and mechanisms that regulate regenerative capacity in the liver and understand how these contribute to hepatocellular carcinoma development – the third-leading cause of cancer death in the world.
Dr. Zhu is the recipient of a Burroughs Wellcome Career Award for Medical Scientists (2012), a Cancer Prevention and Research Institute of Texas (CPRIT) Scholar Award (2012), and a Stand Up To Cancer Innovative Research Grant (2016).