AOA Honor Medical Society welcomes 47 new members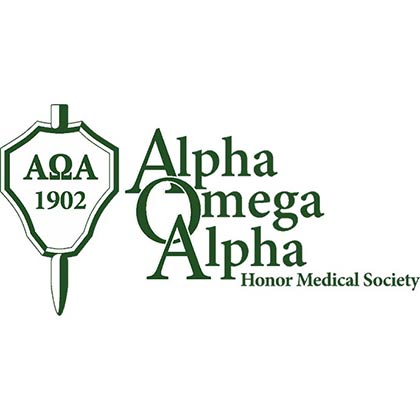 Forty-seven new members were inducted recently into the UT Southwestern Medical Center chapter of the Alpha Omega Alpha Honor Medical Society (AOA). The Gamma Chapter of Texas' Annual Induction and Awards Ceremony banquet took place March 16 at the A.W. Harris Faculty-Alumni Center. The speaker who delivered the Lyman E. Bilhartz, M.D., AOA Lecture at the event was Robert H. Collins Jr., M.D., FACP, Professor of Internal Medicine and Director of the Hematologic Malignancies/Transplant and Cellular Therapy Program, who spoke on "Great Doctors."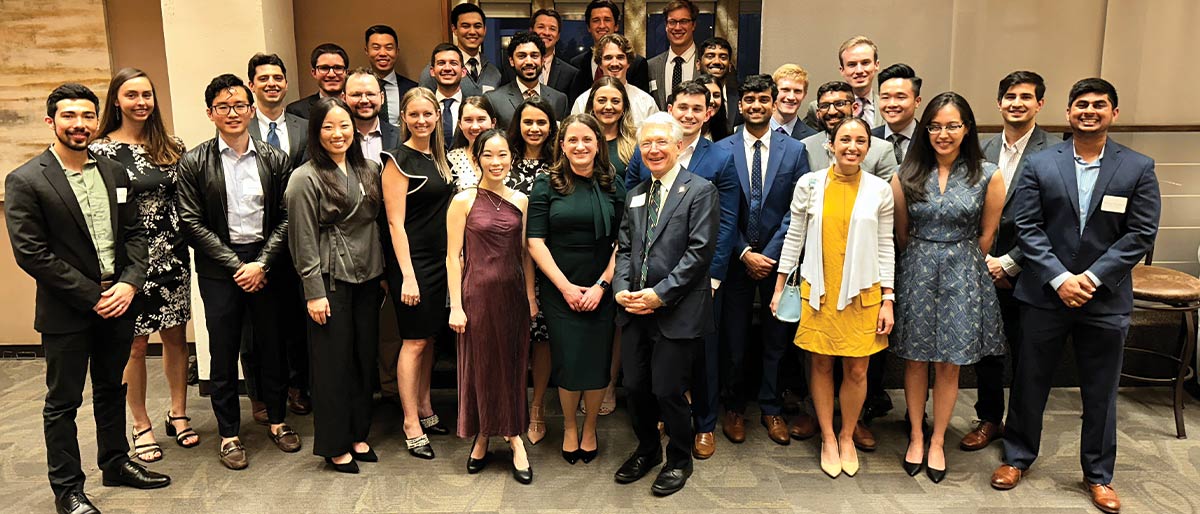 Members are selected based on high academic standing, leadership among peers, professionalism, a firm sense of ethics, promise of future success in medicine, and a commitment to serve in the school and community.
Alpha Omega Alpha Class of 2023
Inductees are (asterisk denotes Junior AOA recognition):
Claire Anne Beltran Abijay
Hayley Brooklyn Baker
Sarah Cao
Jeffrey Tyler Chapman
Henry Wonodihardjo Chen*
Ishwar Daniel Sachin Chuckaree*
Andrew Seungjae Chung
Alexa Ann Ciarolla*
Richard Joseph Cinclair III
Ashley Lynne Ciosek*
Andrew Lee Davis
Mahmoud Mohamed Elguindy*
Daniel Galvan
Priyanka Garigipati
Malvika Govil
Russell Jack Jenkins
Kaitlin Darlene Jones
Yash Kadakia*
Stephany Kim*
Vineeth Kommidi*
Samuel Brody Kusin
Joseph Nathan Liddle
Brian Ko-Hung Lue*
Bhagyashri Onkarnath Pandey*
Mackenzie Nicole Parker*
Shyon Parsa
Akshat Maneesh Patel
Henry Carr Patrick III
Tri Minh Pham
Hunter James Pyle
Brayden Christopher Seal*
David Jiaqi Shu
Casey T. Strauss
Whitney Leigh Stuard*
Abhinav Reddy Thummala
Mauricio Valdez
Ava Michelle Wilson
Andrew Glenn Winsauer*
Brenda Zhou
AOA inducted six faculty members in 2023:
Ryan P. Dumas, M.D., Assistant Professor of Surgery
Karen Kowalske, M.D., Professor of Physical Medicine and Rehabilitation
Jayanthi Sivasothy Lea, M.D., Professor of Obstetrics and Gynecology and Chief of the Division of Gynecologic Oncology
Matthew J. Leveno, M.D., Associate Professor of Internal Medicine
Timothy K. Wolff, M.D., Professor of Psychiatry
Amy Woods, M.D., Associate Professor of Anesthesiology and Pain Management
Two residents were inducted into AOA:
Zein Saad Eddin, M.D.
Jennifer Thompson, M.D.