Willett, Peshock named Fellows of AMIA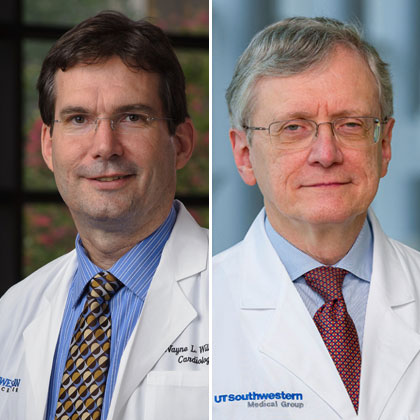 Dr. DuWayne Willett, Chief Medical Informatics Officer and Professor of Internal Medicine, and Dr. Ronald Peshock, Professor of Radiology and Internal Medicine, have been selected as inaugural Fellows of the American Medical Informatics Association (FAMIA) as part of the organization's Applied Informatics Recognition Program.
In November, an interdisciplinary advisory group selected the 130 inaugural Fellows from institutions around the country based on the application of their advanced health informatics skills and knowledge, demonstration of professional achievement and leadership, and their sustained commitment to the betterment of the American Medical Informatics Association (AMIA).
The FAMIA designation, established in 2018, recognizes the contributions and professional accomplishments of AMIA members who apply informatics skills and knowledge to their practice – be that in a clinical setting, a public or population health capacity, or as a clinical researcher.