Reimold receives AHA's Women in Cardiology Mentoring Award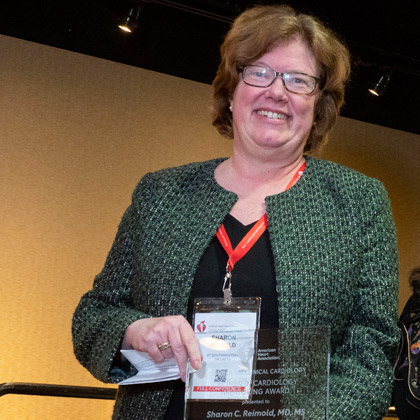 Dr. Sharon Reimold, Vice Chair for Clinical Operations and Faculty Development in the Department of Internal Medicine, received the Women in Cardiology Mentoring Award at the American Heart Association's (AHA) Scientific Sessions conference Nov. 16.
Sponsored by the AHA's Council on Clinical Cardiology, the award recognizes an exemplary history of mentoring female cardiologists and fostering the professional development of women in a field that is traditionally bereft of women.
"Sharon is at once an exemplar mentor, as recognized by this prestigious award, and a sponsor, always reaching out proactively with ideas to support those around her," said Dr. Joseph Hill, Chief of the Division of Cardiology.
Earlier in her career, Dr. Reimold was the Director of the Cardiology Fellowship program at Brigham and Women's Hospital. She has seen the paucity of women in cardiology and has had a hand in helping to change it. As a first-year cardiology fellow, she was one of only two women in a class of nine. Later, the 1999 cohort selected under her leadership at Brigham and Women's was half women.
To Dr. Reimold, involving more women physicians is not solely a matter of equality – it's a differentiator for patient care. "When there are more women in the field, it increases diversity and brings different perspectives and different ways of thinking," she says.
Today at UT Southwestern, a third of the faculty in the Division of Cardiology are women, which is twice the national average, and the 2019 first-year class of fellows was half female.
Adds Dr. Susan Matulevicius, Associate Professor of Internal Medicine in the Division of Cardiology and Assistant Dean for Faculty Wellness: "I am the cardiologist I am today because of Dr. Reimold's influence and mentoring. She has always made me feel valued and heard, has role modeled service leadership, and earnestly works to ensure that opportunities are available for all of her faculty."