IVIS Lumina (Bioluminescence and Fluorescence)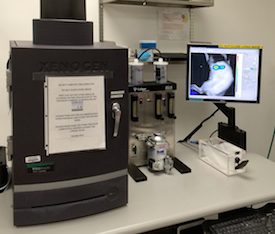 The IVIS Lumina is capable of imaging both fluorescent and bioluminescent reporters. The system is equipped for high sensitivity from 300 to 900 nm with up to 26 filter sets that can image reporters that emit from green to near infrared. The IVIS® CCD camera has a raw signal range of 0 to 65535 analog to digital counts (216). Camera settings can be adjusted to a signal level of 600 to 60,000 counts.
This system is installed inside the specific pathogen free (SPF) barrier facility.
Investigators may request full service imaging or be trained to undertake investigations themselves.