UT Southwestern targets rising rates of kidney cancer with four-pronged attack funded by National Cancer Institute
Bolstering its progress in addressing the rising threat of kidney cancer, the Kidney Cancer Program at UT Southwestern Medical Center's Harold C. Simmons Comprehensive Cancer Center last year received $11 million in research funding from the National Cancer Institute (NCI). Kidney cancer currently has no method of early detection and is particularly challenging to treat.
The highly competitive Specialized Program of Research Excellence (SPORE) award from the NCI is the first for kidney cancer research earned by a single institution and only the second in the nation.

"Receiving SPORE recognition for our Kidney Cancer Program is reflective of the collaborative, interdisciplinary environment that UT Southwestern has historically embraced. The early inroads that UT Southwestern researchers made in this arena serve as the ideal launching pad for future success against this devastating disease," said Dr. J. Gregory Fitz, Executive Vice President for Academic Affairs, Provost and Dean of Southwestern Medical School, Professor of Internal Medicine at UT Southwestern, and holder of the Nadine and Tom Craddick Distinguished Chair in Medical Science, and the Atticus James Gill, M.D. Chair in Medical Science.
Nearly 400,000 Americans are currently living with kidney cancer, which is the fourth most commonly treated cancer at UT Southwestern. It is usually found indirectly, through a scan performed for a different reason, for example. More than 60,000 people are expected to be diagnosed with kidney cancer this year.
In a series of landmark findings over the past 20 years, UT Southwestern researchers have identified and characterized a key protein called HIF-2α involved in kidney cancer. These findings led to development of a drug therapy now in clinical trials.
The UT Southwestern SPORE program involves four innovative disease and clinical research teams targeting adult and pediatric kidney cancer, as well as a patient advocate group, developmental research program, career enhancement program, and core facilities to support these efforts through data analysis, imaging technology, and a tissue repository. The four research teams will:
Search for biomarkers to identify kidney cancer tumors most likely to respond to a HIF-2α inhibitor, as well as to anticipate ways in which these tumors may evade the drug's impact.
Investigate the function of a gene that identifies a cluster of particularly aggressive tumors associated with clear-cell renal cell carcinoma, in hopes of identifying vulnerabilities that can be targeted with drugs.
Examine kidney cancer metabolism to distinguish aggressive from less-active tumors, potentially yielding a tailored treatment approach.
Test novel treatments for childhood kidney cancer by researching the implications of a Wilms tumor subtype.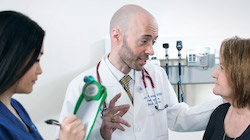 "These funds will support a variety of new and ongoing activities, including the development of a new drug, studies of kidney cancer subtypes in adults and children, and a novel approach to determine which small tumors may be deadly," said Principal Investigator Dr. James Brugarolas, Associate Professor of Internal Medicine and a Virginia Murchison Linthicum Scholar in Medical Research.
Dr. Melanie Cobb, Interim Director of the Simmons Cancer Center, Professor of Pharmacology, and holder of the Jane and Bill Browning, Jr. Chair in Medical Science, said the extraordinary award from the NCI supports the extensive kidney cancer research built by UT Southwestern faculty over the years.
"Sixteen distinguished research leaders – all nationally recognized in their field of expertise – will lead the team of more than 40 scientists that will focus on developing new approaches toward this disease, which is particularly deadly," Dr. Cobb said.
This award marks the second SPORE grant for UT Southwestern, which for 20 years has led a multi-institutional SPORE program in lung cancer that is the largest thoracic oncology effort in the U.S.