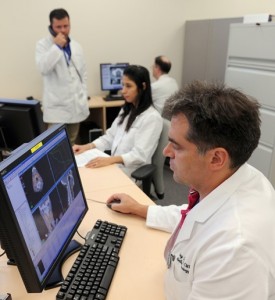 The Master of Radiation Therapy Program is an educational experience that will challenge and motivate you. To meet your expectations and satisfy accreditation requirements, we ask our applicants to be exceptionally well prepared.
Master of Radiation Therapy Requirements
Here are the steps you'll need to take to be considered:
Complete a baccalaureate degree from a regionally accredited college or university (recommended in a health science or sciences)
Earn a minimum cumulative GPA of 2.7 on a 4.0 scale
Earn a minimum GPA of 2.7 on a 4.0 scale in natural sciences and mathematics courses
Complete and submit an online application
Submit an essay as indicated with application
Submit three letters of recommendation. (We recommend letters from undergraduate advisers, instructors or professors, employers, or volunteer supervisors.)
Complete an on-campus interview
Submit your TOEFL scores if you are an international student
Submit GRE Scores
Complete and submit evaluation forms from 24-hours of observation with a Radiation Therapist in a clinic or hospital
Complete the following prerequisite courses
Component areas
Texas common course numbers
Credit hours

Communication

English composition
ENGL 1301, 1302, 2311, 2321, 2326, or equivalent
> 3
Speech/communication
SPCH 1311 or equivalent
> 3

Mathematics

(Course must be completed with a grade of C or higher.)
Pre-calculus
MATH 2412 or higher
> 3

Natural Sciences

(All courses must be completed with a grade of C or higher.)
General Chemistry with laboratory
CHEM 1405 or equivalent
> 4
Physics with laboratory
PHYS 1401, 1402, or equivalent
> 8
Anatomy and physiology
BIOL 2401, BIOL 2402, or equivalent
> 8
All required science classes must be for science majors.
Higher-level course may be substituted in any category (for example, Calculus for Pre-calculus).
Applicant prerequisite course work should be completed no more than five years prior to enrollment in the program. Please contact the Program office for more information as additional science and math courses may be required.
For detailed information about the program, please see the program guidelines.
Special notes about prerequisites
Here are some important points to remember about prerequisite courses.
CLEP and AP: We may accept College Level Examination Program (CLEP) and Advanced Placement (AP) credits for core curriculum requirements, as long as a previously attended college or university has accepted the credits and they're noted on your transcript.

Transcript evaluations: If you have questions about whether we'll accept your courses, send us your transcript for evaluation by a faculty member. You can email Angela Massey. angela.massey@utsouthwestern.edu

Applying before prerequisites are completed: We recommend you complete all prerequisites courses by the February 1 deadline, but you can still apply if you have no more than two classes in progress. Please list the courses in progress on your application.
Essential Functions
Everyone who applies for admission to the UT Southwestern School of Health Professions, including people with disabilities, must be able to perform specific essential functions, which differ depending upon the academic program. Essential functions are the basic activities that a student must be able to perform to complete the program's curriculum. Applicants who cannot perform the program's essential functions – either with or without reasonable accommodations – may not be considered for admission.
Each UT Southwestern School of Health Professions student must be able to:
Attend scheduled classes and laboratory sessions and be present for examination and testing.
Travel to practicum sites and have mobility within and around the sites.
Assimilate information presented via lecture, handouts, videos, discussions, computer, and/or other educational modalities.
Complete assignments such as written assignments, oral presentations, class participation, examinations, and computer-based activities.
Apply the assimilated information to appropriate clinical situations.
Effectively communicate with patients/clients, their families, faculty, and other professionals using oral, telephonic, written, and computer modalities in private and group settings.
Make effective use of learning resources at UT Southwestern and affiliated facilities.
In addition to essential functions for all students, each student in the Master of Radiation Therapy Program must be able to:
Participate in supervised clinical activities, including walking and standing, for 8-hour days in assigned clinical area.
Demonstrate sufficient vision acuity to monitor patients, input data, read computer monitors, and distinguish markings in dim lighting.
Demonstrate sufficient strength to lift, carry, and move items weighing up to 40 pounds.
Distinguish and interpret audio signals from equipment.
Demonstrate sufficient upper- and lower-body strength to move, lift, and transport patients.
Learn to reason, analyze, synthesize, integrate and apply knowledge to be clinically competent, critical thinkers, effective communicators, and to demonstrate professionalism.