Student Diversity and Inclusion – High School Programs
Programs Sponsored by UT Southwestern
Health Professionals Recruitment Exposure Program (HPREP)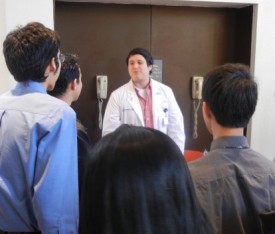 The Health Professionals Recruitment Exposure Program (HPREP) is a five-week program sponsored by UT Southwestern for 10th to 12th grade high school students to help them prepare for application to college and to gain exposure to science and health care careers. Approximately 125 students are selected to participate in HPREP. Participating students tend to be under-represented minorities and/or economically disadvantaged individuals.
Programs Sponsored by Other Groups
The Science Teacher Access to Resources at Southwestern (STARS)
The Science Teacher Access to Resources at Southwestern (STARS)encourages students (high school juniors in DISD) to pursue science-related careers. Students are provided the opportunity to work side-by-side with a faculty host in a research laboratory setting.
Mayor's Intern Fellows Program
The Mayor's Intern Fellows Program is an eight-week, paid summer internship program introducing students from public and charter high schools to careers and employment opportunities in industries, companies, government agencies and nonprofits where they have expressed interest. Facilitated by nonprofit Education is Freedom, the program provides all student fellows with exemplary professional training in resume building, interviewing, business communication, professional dress and etiquette, financial literacy and career choices.
The STEMPREP Distance Learning Program
The STEMPREP Distance Learning Program is a joint program which is sponsored by Southern Methodist University (SMU) for underrepresented minority students who are interested in a career as a physician scientist. These students participate in this longitudinal program over six years and have research experiences each summer beginning in high school at UT Southwestern Medical School. Approximately 20 students are selected to spend two summers at the medical School during their college years with the potential for recruitment to the medical school programs.
Children's Health℠ Volunteer Opportunities
The Student Volunteer Program is open to high school and college students, 16 years of age and older, interested in donating their time serving patients and families of Children's Health℠ Children's Medical Center Dallas.