Student Diversity and Inclusion – College/Pre-Med Programs
Programs Sponsored by UT Southwestern
UT Southwestern Pre-Med Conference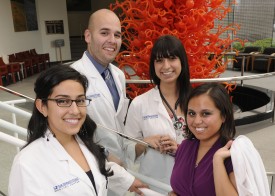 The UT Southwestern Pre-Med Conference will focus on minority college students preparing for careers in medicine or science. Each year in November, UT Southwestern Medical School sponsors a health careers conference that places special emphasis on the successful matriculation of minority pre-health profession students.
Programs Sponsored by Other Groups
Summer Undergraduate Research Fellowship (SURF)
The Summer Undergraduate Research Fellowship (SURF) Program at UT Southwestern's Graduate School of Biomedical Sciences is an intensive summer research training experience designed for college students who are preparing for Ph.D. or M.D./Ph.D. careers in biomedical research. Fellows spend 10 weeks (beginning in early June and ending mid-August) pursuing individual research projects in the laboratories of Graduate School faculty members.
The Dr. Emmett J. Conrad Leadership Program
The Dr. Emmett J. Conrad Leadership Program, named for an outstanding African American Dallas physician, is designed to provide the college students in Senatorial District 23 the opportunity to secure and actively participate in internships that will provide them with viable employment experience in their majors or field of interest, thus expanding their employment marketability, career choices, and leadership capabilities.
The Parkland External Affairs Internship
Join the community relations and communications team at Parkland Health & Hospital System and gain valuable experience in the field of public affairs. Serving the needs of employees, patients and the public, Parkland offers real-world experience in the areas of community relations, public relations, media relations and marketing.
Collegiate Fellows Program
The Parkland Auxiliary Collegiate Fellows Program is a nine-week paid summer job at Parkland Memorial Hospital for college students interested in pursuing a career in health care. This program begins the first week of June and ends the first week of August.
Parkland Memorial Hospital Volunteer Opportunities
Parkland has various volunteer opportunities for those 18 years and older. People from all walks of life volunteer at Parkland in areas all across the hospital.
Children's Medical Center Volunteer Opportunities
The Student Volunteer Program is open to high school and college students, 16 years of age and older, interested in donating their time serving patients and families of Children's Health℠ Children's Medical Center Dallas.
Joint Admission Medical Program (JAMP)
Joint Admission Medical Program (JAMP) was created in 2003 to identify, support and encourage highly qualified, economically disadvantaged students who desire to pursue a medical education. JAMP provides undergraduate and medical school scholarships, summer internships, and mentoring and personal assistance to qualified students. Students selected for JAMP who satisfy both academic and nonacademic requirements of the program are guaranteed admission to one of the medical schools in Texas. All eight of the medical schools, the 31 public undergraduate institutions, and most of the private colleges/universities in Texas participate in JAMP.