Wardak added to physician team
Zabi Wardak, M.D., has been appointed Assistant Professor in the Department of Radiation Oncology, joining the team focused on treating central nervous system (CNS) cancer.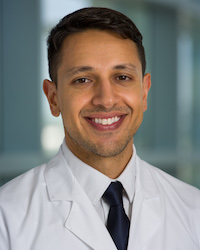 Dr. Wardak earned his medical degree from SUNY Upstate Medical University in New York. He completed his residency training in radiation oncology here at UT Southwestern Medical Center, where he received a Roentgen Resident/Fellow Annual Research Award for outstanding research in addition to serving as chief resident. He has additional advanced training and certification in the use of Gamma Knife Stereotactic Radiosurgery (SRS) and CyberKnife Stereotactic Radiotherapy.
Dr. Wardak specializes in treating benign and malignant brain and spinal cord tumors with a focus in stereotactic radiosurgery. He joins the physician team that includes Robert Timmerman, M.D., Lucien Nedzi, M.D., and Tu Dan, M.D.