Surgery vs. SABR: "Stablemates" trial to directly compare treatments in operable lung patients
The results of a national trial evaluating stereotactic ablative radiotherapy (SABR) in lung cancer patients too frail to receive surgery were so positive that physicians, led by researchers in Boston and Dallas, have opened a multi-institutional study to directly compare surgery versus SABR in operable patients.
Although image guidance in radiation therapy has improved dramatically over the last few years, with SABR in particular being touted for its "surgical" precision, only a few, mostly retrospective, studies exist actually directly comparing surgery with SABR.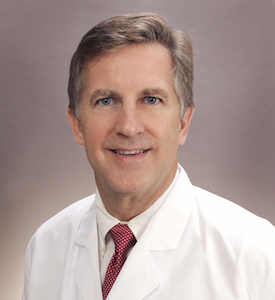 Robert Timmerman, M.D., Professor of Radiation Oncology at UT Southwestern Medical Center in Dallas, led the initial study (RTOG 0236) which offered SABR to patients with serious comorbidities (severe emphysema, heart disease, or diabetes) or poor pulmonary function. At three years, local control and survival were 98 percent and 56 percent, respectively. Five-year data has likewise shown a durable response with relatively high survival.
"This was very exciting," Dr. Timmerman says, "These patients previously had a poor prognosis but were given a very effective treatment that could be compared to surgery in terms of immediate tumor control and long-term survival. As a result of that study, SABR is now firmly established as a standard-of-care therapy for patients with early-stage lung cancer who are unable to tolerate surgery."
The results also begged the question: If a noninvasive treatment can deliver results comparable to surgery, what role should SABR have in the management of patients who would normally receive surgery?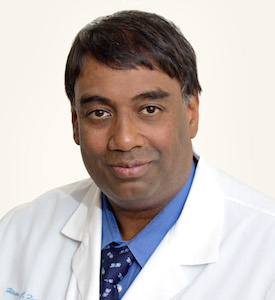 Hiran Fernando, M.D., Chief of Thoracic Surgery at Boston Medical Center, championed the current study, which compares both approaches directly. The new trial is enrolling patients with early stage lung cancer who are classified as high risk for surgery but are still eligible to receive a modified procedure (sublobar resection).
"While they can still tolerate a surgery, these patients have other conditions that put them at a higher risk for complications," says Dr. Fernando. "We selected this patient population to study SABR versus surgery because there would be a specific benefit to this group in finding an alternative to surgery."
He notes that surgical techniques have improved over the years just as they have in radiation therapy.
"This study will help doctors understand the advantages and disadvantages of each therapy so that they can better advise patients about their treatment options," Dr. Fernando says. "The study may also help physicians to identify which patients are more likely to benefit from one therapy compared to the other."
Over 30 institutions in the U.S. and Canada are planning to participate in the "Stablemates" trial, which is being administered independently by UT Southwestern. The trial's nickname, says Dr. Timmerman, was chosen because "the two therapies [surgery and SABR] are both fiercely competitive, like thoroughbreds in a race. Yet when not competing on the track, they reside together in a stable enjoying each other's com­pany – ready and eager to be called on for the next challenge."
Patients are pre-randomized to receive one of the two treatments before being consented to participate in the study. Investigators adopted this approach after considering the success of the ground-breaking trial NSABP-B06, which proved that lumpectomy was as successful as a full mastectomy for preventing cancer recurrence in select breast cancer patients.
"NSABP-B06 initially was opened with a traditional randomized trial design, with patients randomized to total mastectomy, breast conserving surgery, or breast conserving surgery plus adjuvant radiation. The trial almost closed due to lack of patient accrual," Dr. Timmerman says. "What they found is that patients want to retain some control over the type of treatment they receive. After prerandomization was implemented, monthly patient accrual doubled and the trial not only was successfully completed but became one of the most important oncologic studies to have ever been performed."
Patients who are offered a particular therapy in the Stablemates trial can either accept or reject their assignment, and may still participate in the study by allowing their follow-up data to be used.
In Dallas, the Stablemates trial is being conducted by radiation oncologists Puneeth Iyengar, M.D., Ph.D. (also the study's principal investigator), and Hak Choy, M.D., along with cardiothoracic surgeons Kemp Kernstine, M.D., Ph.D., and Scott Reznik, M.D.

SABR is a newer therapy that utilizes advanced image guidance and a high number of treatment beams to deliver a more powerful dose of radiation than with standard radiation therapy. The higher dose is delivered in a small number of treatments. The Stablemates trial will offer SABR delivered in five sessions.
"As a noninvasive, relatively convenient outpatient treatment, SABR may benefit patients by offering them a treatment that is easier to tolerate and that doesn't interfere greatly with their normal daily living activities," says Dr. Timmerman. "We hope this landmark study will help us come closer to understanding the optimal role for SABR in treating lung cancer."
Hiran Fernando is Chief of Thoracic Surgery at Boston Medical Center, Director of the Barrett´s Esophageal Program; Director of Thoracic Surgery Clinical Research; Associate Professor of Surgery, Boston University School of Medicine, Director of the Center for Minimally Invasive Esophageal Surgery.
Robert Timmerman is Professor, Vice Chair and Medical Director of Radiation Oncology at UT Southwestern Medical Center. He holds the Effie Marie Cain Distinguished Chair in Cancer Therapy Research.
For more information, visit the Stablemates trial website.