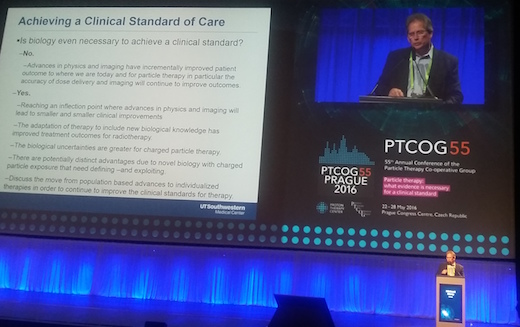 Michael Story, Ph.D., Professor and Director of Molecular Radiation Biology,was a keynote speaker at the 55th Particle Therapy Cooperative Group (PTCOG) meeting in Prague in May and took part in a discussion panel on clinical standards. Dr. Story also was one of four organizers of an international workshop sponsored by the National Cancer Institute entitled, The Biology of Particle Therapy, held April 5-6 in Bethesda, MD. Speakers included Dr. Story (who also ran a discussion session), Bob Timmerman, M.D., and Hak Choy, M.D.
Debabrata Saha, Ph.D., Associate Professor in the Division of Molecular Radiation Biology, spoke at the Third International Symposium on Precision Image-Guided Small Animal Radiotherapy Research in Ghent, Belgium. He spoke on the topic of "Animal Models and Utility for Pre-Clinical Radiation Research."
Sandeep Burma, Ph.D., Associate Professor, gave an invited lecture at the Center for Research on Cancer of Marseille (CRCM) in Marseille, France, in April.
Bipasha Mukherjee, Ph.D., Assistant Professor, and Dr. Burma presented their research in the "10th Quinquennial Conference on Responses to DNA damage: from molecules to disease" at Egmond An Zee, Netherlands, in April.