Physician joins head and neck cancer team
Nhat-Long Pham, M.D., Ph.D., has joined UT Southwestern Radiation Oncology as Assistant Professor and member of the team treating head and neck cancer.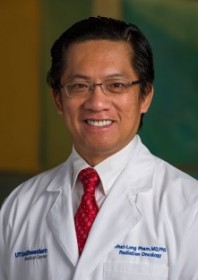 Dr. Pham has distinguished himself in research, having served for five years as project manager in the laboratory of Dr. Eugene Levin at the Scripps Research Institute where he focused on vascular biology and anti-angiogenesis. His doctoral research focused on immunology, specifically on the differentiation of antigen-specific CD8 T cell memory. He has contributed numerous articles to academic publications including PNAS and the Journal of Immunology. Dr. Pham graduated with distinction from the University of Virginia where he earned degrees in biochemistry and biology. He then entered the medical scientist training program at University of Iowa, where in addition to earning his medical degree he earned a Ph.D. in immunology. He received advanced training in radiation oncology with a residency at University of California – San Diego.
We welcome Dr. Pham to our clinic and are excited to have him work with our head and neck patients.