Nathan Kim, M.D., Ph.D., rejoins faculty
Nathan Kim, M.D., Ph.D., has joined the faculty of UT Southwestern Radiation Oncology as Assistant Professor.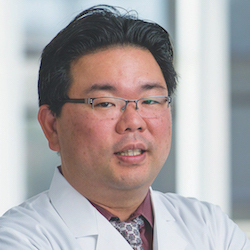 An experienced and board certified radiation oncologist, Dr. Kim will have a primary focus on treating breast cancer patients.
Dr. Kim received a master's degree in biomedical engineering from Johns Hopkins, and then a combined M.D./Ph.D. from Boston University. Dr. Kim completed an internship in internal medicine at Vanderbilt University Medical Center and residency in radiation oncology in 2006. He brings an additional three years prior experience as part of the UT Southwestern Radiation Oncology team from 2011-2014.
"We are pleased to welcome Dr. Kim, a well-regarded physician, back to our clinic," says Department Chairman Hak Choy, M.D. "Breast cancer patients constitute the largest group of patients we see here, and the addition of Dr. Kim will enable us to fully accommodate these individuals as our practice continues to grow."
Dr. Kim joins a team of radiation oncologists specializing in breast cancer, which includes Ann Spangler, M.D., and Asal Rahimi, M.D.